The biggest new-model push in decades is about to drive Volvo forward in Australia. The Swedish brand hit an all-time low of just 2600 sales in 2003 and has been rebuilding since, firstly with its Bloody Volvo Driver advertising push and now with new models. It has just updated its XC90 all-wheel-drive wagon, has the C70 coupe-convertible almost ready for Australia and is also preparing a new S80 flagship.
It will also take a new tack next year with the compact C30, which will run up against a new range of rivals, including the BMW 1-Series and Volkswagen Golf. "There has been a fair bit of development work in the past few years and it's not slowing down," says Todd Hallenbeck, Australian spokesman for Volvo. "This is the most product active Volvo has ever been.
"The C70 will be about the middle of November and the S80 will be early in the first quarter of 2007. They are both totally new. The C30 will also be along in the first quarter of '07 as well."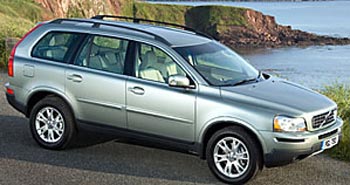 Hallenbeck says Volvo has been in retreat since the start of the noughties but believes the newcomers will drive it forward in a product-driven business. The first two have the potential to lift sales by at least 1000 cars, but the C30 is still an unknown.
"Two thousand six hundred was the low point for the brand," he says. "This year's target is slightly over 4000 cars. Next year it's a bit higher. Considering we have C70 and S80 and C30 for most of next year the target is a bit higher. It's a challenge."
Volvo Australia has already previewed the C70 at the Melbourne Motor Show and will have the S80 and C30 for the Australian International Motor Show in Sydney at the end of next month.
 There has been a delay on the flagship because of a six-month lag between the start of left-hand-drive production and the first right-hand-drive cars and Hallenbeck admits it has been frustrating in Australia.
"We have been screaming and yelling for it," he says. "We need to position it as a legitimate prestige car against the BMW 5-Series and Audi A6.
"We think the V8 and all-wheel drive will give it a strong presence in the sector. Particularly at the price we are thinking of."
The new C70 will end the days for separate coupes and convertibles in the Volvo range as it becomes one of the new-age coupe-convertibles with a folding metal roof and priced from $69,000. Further into the future, Volvo will have a 2.4-litre engine with 135kW for the C30 and is also looking at making the car its diesel hero.
"It is still under review, but very much on the want list is the diesel," Hallenbeck says.
But there are still a few secrets that Volvo is holding on to.
"We haven't announced anything beyond the C30, yet," Hallenbeck says. [The Daily Telegraph]