The rotary engine is here to stay, but perhaps not as we know it. Mazda says it is committed to petrol rotary engines, but there is a question mark hanging over the long-term future of high-revving powerplants due to their thirst and high emissions. Regardless of what happens to petrol rotaries, Mazda is determined to keep the rotary engine spinning well into the future.
It is pushing on with plans to introduce an environmentally friendly rotary engine that runs on hydrogen instead of petrol.
The engine could be linked to an electric motor, which can recharge on the run.
This is not a pie-in-the-sky plan, though there are few places you can fill up on hydrogen, Mazda plans to introduce its first hydrogen-powered rotary in 2008.
The first model to use the technology will be the family friendly Mazda5 mini-people mover, a model that will not be coming to Australia.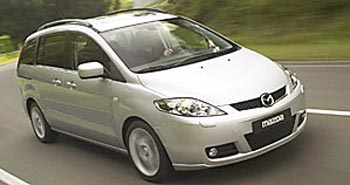 Mazda president Hisakazu Imaki, who visited Melbourne last week, says the special Mazda5 will be able to run on hydrogen or petrol.
"If you are on the motorway, you press a button and you can convert from petrol to hydrogen and you hardly notice the change," Imaki says.
He says regular combustion engines are not well suited to running on hydrogen, but rotaries, which use rotors instead of pistons, are because the combustion area is not as hot.
This means Mazda engineers don't have to do much to ensure the rotary can run on hydrogen.
"The conversion from petrol to hydrogen is relatively easy," he says.
Imaki says the company could have developed a petrol-electric hybrid powerplant as an alternative, but it would not have been as green as the hydrogen rotary.
"The combination of a regular piston or rotary engine with hybrid (motor), makes not so much of a difference. The difference is in using hydrogen as a fuel," he says.
As for the future of the petrol rotary engine, which faces a tough fight as emission rules become stricter, Imaki says he has a team working on making that engine greener.
"That very topic came up in internal discussions. I understand our R&D people are doing a lot of improvements. All I can say is that I will be looking forward to future developments."
The Mazda RX-8 sportscar is the only model in the Mazda range to be fitted with a rotary powerplant, but Mazda says the engine is important to the company.
"I know the public and also the media views the rotary as a brand icon of Mazda," he says.
Mazda has no plan to fit a rotary engine to the MX-5, even though the light, high-revving engine may suit the roadster.
MX-5 program manager Takao Kijima has ruled out a rotary engine and even a turbo boost for the convertible sportscar.
He says it is more likely the car may be fitted with a slightly larger engine, probably a 2.3-litre four-cylinder with direct injection technology to give the car a mid-life boost. [Herald-Sun]