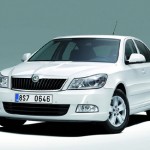 Å koda is offering great deals across the Å koda range that are designed specifically for business users in order to meet their needs. Å koda Finance is offering monthly rentals on Superb and Octavia models that deliver Å koda's legendary value, from high fuel economy and low CO2 emissions to low servicing costs and excellent resale values, all delivered with the support of Å koda's dedicated fleet team.
The flagship Škoda Superb GreenLine is available to fleet customers for just £199 a month (plus VAT and deposit) for a three year period or 10,000 miles per annum. The GreenLine offers exceptional fuel efficiency of up to 68.9mpg, helping businesses keep cost down in ever-tightening market conditions and also offers excellent predicted residual values of 40 per cent.
The new Octavia 1.9TDI S Hatch is available from £179 per month (plus VAT and deposit) and includes metallic paint. Motability customers will benefit from zero deposit on Fabia hatch and estate along with Roomster (manual only) models.
Martin Burke, Head of Å koda Fleet Sales, comments: "As the manufacturer of happy drivers we are always looking for ways to put a smile on the faces of our customers. For businesses this means great offers, low cost of ownership and great back up from our dedicated fleet sales team."
These offers are in effect through 30 September 2009.
[Source: Skoda]