The first generation Audi TT was one of the big automotive hits of the last few years – and with waiting lists for the new model already growing, it's continued sales success looks pretty much assured. But does Audi's sporting coupe deserve the plaudits that have been heaped upon it – does it have what it takes to enter at the top of its hard-fought segment?
To find out we're throwing it into the ring with our second contender – BMW's compellingly oddball Z4 coupe. It's a car that basically does what it says on the tin, a tin-top version of the already well-established Z4 roadster, sharing the soft-top's mechanical package but acquiring a sportier suspension set-up.
And this being an aspirational bit of the market, we've picked out a pair of range toppers to slug it out. In the TT's case, that means the 3.2 litre V6 Quattro, which we're testing with the optional twin-clutch "DSG" paddle-shift gearbox. It costs £30,865 (the six-speed manual version would have been £29,385) and boasts a 248 bhp engine with power being delivered to the road by part-time four wheel drive.
Against it we're putting the 3.0 Si Z4, meaning a straight six engine and 263 bhp channelled to the rear wheels via a six-speed manual gearbox. In "SE" trim as tested here it will set you back £31,400.
May the best coupe win.
Styling and design
Left: Audi TT – Right: BMW Z4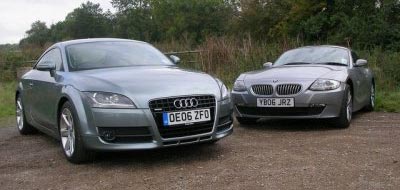 The original Audi TT was widely hailed as a modern design icon, and the new car has its work very much cut out to live up to its illustrious predecessor. Which explains why the new car looks very familiar – Audi understandably doesn't want to change a proven formula too far. The new car is wider and lower than the previous model, with a distinctively different front end, but aesthetic elements like the front wheelarches seem to have been taken as a complete graft from its predecessor. It's handsome enough, but the conservative styling also feels like a bit of a wasted opportunity.
The Z4 coupe was created out of the existing Z4 roadster as an "extra hours" project by BMW engineers. The end result is a compellingly odd looking car, one that almost seems to be wearing a backpack or rucksack. The aesthetics are defined by the heavily curved roof and the hatchback rear section, which has distinct overtones of 1960s British sportscars about it. The end result certainly looks low and sporty – but it also seems very small in the metal and lacks the TT's head-turning road presence.
TT:4/5
Z4:4/5
Performance
Left: BMW Z4 – Right: Audi TT

 
With big capacity six cylinder engines under their bonnets and around 250 bhp to call on, both our contenders enjoy predictably strong performance.
The TT's 3.2 litre V6 is a familiar unit from elsewhere in the VW Group product portfolio, having been seen in everything from the VW Phaeton and Golf R32 to the previous generation TT V6. Power is translated into performance via the clever six-speed DSG "twin clutch" gearbox, with smooth, seamless gearchanges delivered via either an automatic transmission programme or through the use of paddles on the back of the steering wheel. With 247 bhp on tap, accompanied by 236 lb/ft of torque, the TT dispatches the 0-62 mph dash in a claimed 5.7 seconds (0.2 of a second quicker than a manual gearbox equipped TT V6) and goes onto a top speed limited to 155 mph.
The Z4 is fitted with BMW's latest generation "magnesium block" 3.0 litre straight six engine, which uses variable valve timing and the company's innovative "Valvetronic" throttle system to produce 265 bhp at a revvy 6600 rpm, but with slightly less torque than the Audi can muster – just 232 lb/ft. The net result is an identical claimed 0-62 mph time of 5.7 seconds and a dead-heat 155 mph top speed, too.
Yet despite their proximity on paper, our two contender's engines exhibit very different characters on the road. The TT definitely feels more willing at lower engine speeds, pulling with reasonable enthusiasm from 2000 rpm upwards. The Z4, by contrast, needs to be worked hard to deliver its best performance. But the BMW shows every sign of enjoying the thrashing that you give it, accompanying progress with a very zingy exhaust note. If there's a better sounding six-cylinder engine at this price point in the world, we've yet to find it.
Side-by-side acceleration runs also prove that, once the advantage of the TT's better off-the-line traction goes, the Z4 enjoys a small but significant performance advantage, pulling out a respectable lead in short order. Even the TT's brilliant DAG transmission, which delivers lightning-quick changes with almost total smoothness, can't quite save it from losing this round to the Beemer.
TT:4/5
Z4:5/5
Handling and ride
As self proclaimed sportscars, this is an important round for both of our challengers. The previous generation TT's handling was often criticised as being a let-down compared to the rest of the package – and underneath it was, as one unkind critic once put it, nothing more than a VW Golf in a party frock.
This time it's very different. Although the TT still shares componentry with other models in the VW and Audi ranges, it now has a unique floorpan and a state-of-the-art aluminium and steel bodyshell, with over 75 percent of its mass being made from alloy.
Over British "B" roads its immediately clear that the new car is a vastly better dynamic companion than its predecessor – accurate, agile and displaying tenacious grip in the sort of tight corners which would have had the old car making for the verge. The Quattro drivetrain works very well on damp surfaces, delivering plenty of reassurance when the going gets slippery. But even with the ESP stability control switched off it takes a massive amount of abuse to persuade the TT to slide or break traction.
The Z4 drives brilliantly, too. At least, it does on smoother road surfaces. Firmed-up suspension over the Z4 roadster give it better reactions and more agile responses, and although the electric power assisted steering feels a bit too light sometimes, you quickly acclimatise to it and begin to trust it. BMW's customary 50:50 front: rear weight distribution and rear wheel drive give a nicely neutral handling balance, the Z4 will carry massive speed through corners before it even threatens to slide. Over rougher road surfaces the hard suspension and ultra-reactive steering can make it a struggle to keep the Z4 on its intended line.
Being rear wheel drive, it's also relatively easy to persuade the Z4 into a low-speed power slide with the stability control turned off. It's easily done and easily corrected, and although it's not exactly relevant for everyday motoring in modern Britain, it's fun nevertheless.
TT:4/5
Z4:4/5
Practicality and comfort
Left: BMW Z4 – Right: Audi TT
 

The original TT managed to combine style, performance and practicality, and the new car is very much carrying on in the same vein. That means one huge advantage over the Z4: the presence of rear seats. They're small, cramped and awkwardly accessed, not exactly designed for everyday use, but they are there for emergencies or luggage storage nevertheless. And, while we're being sensible, it also has a decently proportioned boot and the rear seats can be painlessly folded down to increase luggage space still further. The Audi doesn't score a clean sheet on the comfort front, though, the ride feels over-firm on rougher road surfaces, especially in town and the lack of an external release for the boot is irritating. But the quality of the interior is brilliant, with strong design, excellent ergonomics and a comfortable driving position.
This is the area where the Z4's case really begins to wane. It's only got two seats for a start, which is really going to limit practicality for anybody looking to buy the Z4 as a sole car. The low roofline and wide sills also make getting in and out a struggle, especially for anyone taller than average. While, once in place, the Z4 feels very tight-fitting, with a narrow footwell and a big centre console. Build quality is solid and there are some nice design themes, including the lozenge-shaped dashboard face, but it can't match the feeling of specialness offered by the Audi. On the plus side, the hatchback rear has brought with it a decently sized and easily accessed boot. But ride comfort is also poor over broken road surfaces, and the Z4 is far louder at motorway cruising speeds.

Left: BMW Z4 – Right: Audi TT
 
TT:4/5
Z4:2/5
Money
Both of our contenders offset their high prices with generous standard equipment – although, as you would expect in this bit of the market – its still possible to add thousands of pounds onto the bill via long lists of optional equipment.
The TT weighs in at £30,685 including the £1400 DSG gearbox, with the price including Nappa leather upholstery, heated front seats, a single CD stereo with amplifier, stability control and the neat pop-up deployable wing that's guaranteed to make even the most hardened mate twinge with secret jealously. Notable options include an iPod connection for the stereo (£150) and two different types of satnav. A basic "pictogram" system for £650, which was fitted to our test car and proved confusing to use, or a full-colour screen system, which looks pricey at £1650. Poor rear visibility will also make parking distance sensors (£300) a popular upgrade.
The BMW is slightly more expensive than the Audi, wearing a pricetag of £31,400 before options. Standard equipment includes leather trim, stability control, nice-looking brushed aluminium interior trim, metallic paint, automatic headlamps and automatic wipers. The standard stereo system only features a single CD slot, although a six-disc multichanger looks like decent value at £295. Again, two satnav systems are available ("Business" for £935, "Professional" for £1495. But it's the £330 "Comfort" package that looks like the most sensible addition, featuring a sports steering wheel with multi-function controls, rear parking distance radar and an auto-dimming rear view mirror.
Running costs will be high, although both cars are predicted to enjoy decent residual values, with the TT projected to hold onto 51 percent of its value over three years and 60,000 miles, with the Z4 slightly behind on 45 percent (Source: Glass's Forecast). Running costs should be respectable considering the amount of performance on offer. The TT returns an official 30.1 mpg, although under hard use that drops to the low 20s. And the Z4 does slightly better, scoring 32.9 mpg in the official tests, although over a mixture of town and motorway driving we actually managed a still-respectable 28 mpg. Both cars also come with variable interval servicing, which should help to minimise time spent off-the-road.
TT:4/5
Z4:2/5
And the winner is:
Most of us would be delighted to find space outside our houses for either of these cars. Both look good, drive brilliantly and yet combine their head-turning looks with respectable running costs. But there can be only one victor…
So, to sum up. The TT shares much of its predecessor's design icon looks and brilliant cabin. Only now it's genuinely good to drive too – this is no longer a sportscar that you have to make excuses for. The more basic 2.0 litre turbocharged engine is undoubtedly the more sensible choice, but for now the only way to get the Quattro drivetrain is by opting for the excellent V6 motor.
The Z4 coupe remains an enormously likeable car, and one with a real personality of its own. It has the slight edged in terms of both dynamic appeal and performance, but the cramped cabin and two-seat layout mean it's never going to be able to rival the Audi in terms of everyday practicality. With higher initial costs and steeper depreciation, it will also be the more expensive car to own and run.
Two brilliant cars – but only one winner. Congratulations to Audi for taking a well-deserved victory with what proves the better all-rounder.
TT:5/5
Z4:4/5
Specs and favourite details

Audi TT 3.2 V6 Quattro DSG
Price: £30,865
Engine: 3189 cc 24 valve V6 petrol
Power: 248 bhp at 6300 rpm
Torque: 236 lb/ft at 2500 rpm
Performance: 0-62 mph 5.7 seconds, 155 mph top speed (electronically limited)
Fuel economy: 30.1 mpg combined
CO2 emissions: 224 g/km
BMW Z4 Coupe 3.0 Si SE
Price: £31,400
Engine: 2996 cc 24 valve straight six petrol
Power: 263 bhp at 6600 rpm
Torque: 232 lb/ft at 2750 rpm
Performance: 0-62 mph 5.7 seconds, 155 mph top speed (electronically limited)
Fuel economy: 32.9 mpg combined
CO2 emissions: 207 g/km
TT: Favourite details:
1) DSG gearbox
2) Pop-up rear wing
3) Quattro four-wheel drive system.
Least favourite detail: No external boot release. [Channel 5]