The new CTS looks killer if recent spy shots are anything to go by. These shots show what appears to be the next generation CTS-V undergoing testing, as evident by the wide tires and performance wheels, larger exhaust tips, and most conspicuously, the bubble protruding from the mule's hood that we guess is making room for a supercharger.
While no one knows for sure what engine will power the next CTS-V, some say it will be a non-supercharged 4.6-liter V8 while others swear it will have a blower.
Looks like the latter camp may be right, and if so, The Car Connection says the CTS-V may have between 550-600 horsepower, which is just pure insanity for an "entry-level" luxury sedan.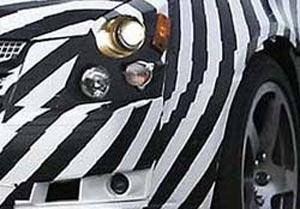 Apparently Cadillac is serious about hammering the BMW M3 and M5 (the 3-Series is really the direct competitor to the CTS, but 550-600 hp will allow the CTS-V to run with the V10-powered M5) with some serious Detroit iron.
Only 7,500 examples of the CTS-V are pegged for production, and judging from these shots we're sure Cadillac won't have any trouble unloading them.  [The Car Connection]