Pontiac's foray into the tuner world has been partially stunted by the limited amount of available Solsti on the road. Fortunately for Pontiac, a Canadian customizing contingent that represents the best of what's up north, took it upon itself to create the stereotypical tuner machine (with 500 horsepower, though) out of its coveted drop top.
The Pontiac Top Tuner Solstice was led by Elite Tuners of Canada and involved over 30 different companies to bring the green terror to fruition. The high end showmobile reportedly cost over $500,000 to produce and judging by the amount of modifications, that sounds about right.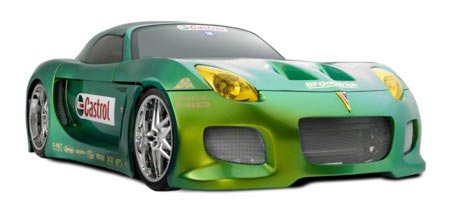 The most obvious changes take place on the exterior, with a one-off, fiberglass hardtop fitted in place of the standard canvas roof. From there, Phat Custom Rides of Montreal created a custom body kit that includes a new front fascia, widened front clip, airdam-infused rear fenders and a fiberglass hood. Needless to say, all that faux-aero gear needs a "grab your eye" hue, so Henry's Auto Body in Shediac, New Brunswick was tapped to create a color that no other shop would offer: Vivacious Candy Green.
Where it really matters is under the hood, and GM was more than happy to help out. The General's performance parts division supplied the shop with a 2-liter crate engine, which the tuners promptly dismantled and equipped with LSJ connecting rods and pistons, cams, cam gears, a custom aluminum intake manifold and the rear differential pulled from the CTS-V. All that wrench time under the hood is responsible for an engine purportedly able to produce over 500 pissed off ponies.
The Top Tuner Solstice has made its way around North America, running off with a variety of awards at some of the premier aftermarket showcases. Considering that some of the great minds of Canada were allowed to play with a virtually unlimited budget, that's no surprise. [World Car Fans]