Ferrari wins world championships and it applies the knowledge to building a beast like the 599 GTB Fiorano. Renault wins the championship and they make… a supermini. But that's cool, we remind ourselves, because everyone does what they do best, and nobody makes hot hatches like Renaultsport, the performance division that builds the F1 cars and the hottest of pocket rockets.
So to coincide with the launch of the new R27 Formula One race car, Renaultsport has taken the wraps off their latest offering: the Clio Renault F1 Team R27, complete with checkered-flag decals, special "Sirius" yellow paint, red brake calipers and a numbered plate. With all that frivolous fluff, what more could you ask for? Inside, this special Clio is outfitted with Recaro racing seats, but the only real "meat" of this special edition is the Cup-based suspension, lowered with new shocks and springs, plus 17″ Anthracite wheels at all four corners.
The Renault Sport Clio Renault F1 Team R27 will be officially launched at the Geneva show in March, but somehow we're just not all that excited. After producing special edition after special edition, we're left wondering when Renault will actually build something really special, worthy of its on-track achievements.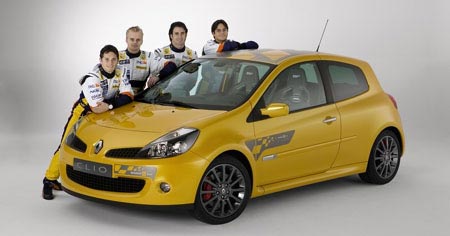 PRESS RELEASE
Clio Renault F1 Team R27, An entry into the World of Formula 1
To mark the international launch of the new R27, Renault Sport Technologies will present the Clio Renault F1 Team in Amsterdam today. This will be a unique opportunity for enthusiasts to celebrate the achievements of the two-fold world champion Formula 1 Team with the unveiling of a unique car packed with sports features and technologies. Offering sensations of pure performance, passion and driving pleasure, the special edition Clio Renault Sport asserts its identity across a unique look and sporty dynamics, boosted by range of equipment drawn from the best of competition vehicles.
Asserting the Renault F1 Team identity
With its red brake callipers, its new Sirius yellow colouring and exclusive Renault F1 Team and World Champion markings, this special edition of the Clio Renault Sport will be immediately identified with its older sibling, the Mégane Renault F1 Team. The interior features Récaro seats, and the numbered plate evokes its unique sports character.
Chassis and settings for ultimate efficiency
Clio Renault F1 Team R27 rests on a Cup chassis. BeBop 17" Dark Anthracite wheels provide more sensation and road-holding accuracy. Its base is lower than the Clio Renault Sport, efficiency is improved by adjusted shock-absorbers and specific springs. This means more performance and extreme pleasure. The general public will find more details on this Special Edition Clio Renault F1 Team R27 at the next Geneva Car Show. Test drives and commercial marketing at a later stage. [autoblog]