Nissan finally got into the hybrid game today with the world premiere of the 2007 Altima Hybrid at the OC Auto Show. The Altima itself is all-new for '07, and has grown into an even more handsome sedan. Based on the D-platform, it is roomier and should offer an even more solid package. But the big news here is Nissan's first hybrid system. The Altima Hybrid powertrain pairs a version of Nissan's QR25 2.5-liter 4-cylinder engine with an advanced electric drive motor/generator. Together they'll deliver 198 hp and Nissan promises a half-second reduction in the 0-60 time compared to the standard 2.5. Power is fed through a standard electronically controlled CVT that increases fuel economy while maintaining low tailpipe emissions. The sticker says 41 mpg city and 36 highway, all with lower tailpipe emissions. The Altima Hybrid is rated as an Advanced Technology-Partial Zero Emissions Vehicle (AT-PZEV) with virtually no evaporative emissions.
All-New 2007 Nissan Altima Hybrid Electric Vehicle Brings
New Levels of Performance and Style to the Hybrid Market
– Nissan's First Entry Into the Hybrid Gas-Electric Vehicle Segment Blends Fuel
Efficiency with Altima's Performance, Quality and Innovation Leadership –
The all-new 2007 Nissan Altima, which goes on sale in November 2006, is designed simply to be one of the best performing large front-wheel drive sedans in the world. This next-generation Altima offers all-new, distinctive styling, a roomy, comfortable, full-feature high-quality interior and an all-new "D" platform. Beginning early in the 2007 calendar year, Altima adds one other dynamic feature – a hybrid gas-electric model, the Altima Hybrid.
The 2007 Altima Hybrid is part of Nissan's ongoing efforts in the area of environmental protection and vehicle efficiency. The company's aim is to provide the right technology to the right market at the right time and right value to the customer. In addition to introducing the new Altima Hybrid in 2007, Nissan offers its advanced Xtronic CVT‰ (Continuously Variable Transmission) in five 2007 vehicles and Flexible Fuel Technology (FFV) in the 2007 Titan pickup and Armada SUV.
Very low emissions were a requirement of the Altima Hybrid from its inception. The Altima Hybrid has been certified to meet California emissions requirements and will be sold in states that have adopted California emissions regulations: California, Connecticut, Maine, Massachusetts, New Jersey, New York, Rhode Island and Vermont. These eight states are among the strongest markets for hybrid vehicles.
"When you enter an important new technology segment such as hybrid electric vehicles, you want to lead with your best – and this next-generation 2007 Altima is clearly one of the best all-around vehicles Nissan has ever created," said Bill Bosley, vice president and general manager, Nissan Division, Nissan North America, Inc. "The Altima Hybrid is an environmentally friendly vehicle that is completely driver-friendly as well."
The Altima Hybrid powertrain mates a refined version of Nissan's QR25 2.5-liter 4-cylinder engine and standard electronically controlled CVT with an advanced electric drive motor/generator that increases fuel economy while maintaining low tailpipe emissions. The Altima Hybrid is rated as an Advanced Technology-Partial Zero Emissions Vehicle (AT-PZEV) and emits almost no evaporative emissions.
The advanced energy drive system shares duties between the gasoline-powered 4-cylinder and the emissions-free electric motor – allowing the Altima Hybrid to run solely on electric power if appropriate, especially during stop-and-go driving. If extra performance is needed, the gasoline engine starts instantly and smoothly adds power as required.
The Altima Hybrid is estimated to have a hybrid system net power rating of 198 horsepower (148 kW). EPA fuel economy is estimated at 41 mpg City and 36 mpg Highway. Combined with Altima's standard 20-gallon fuel tank, the Altima Hybrid has a projected driving range of up to 700 miles between fill-ups.
Cutting-Edge Hybrid Technology
The Altima Hybrid utilizes regenerative braking technology to recharge the hybrid system's batteries, meaning Altima Hybrid doesn't have to "plug in" to anything to sustain a sufficient store of electric energy.
In order to power the electric motor, a generator places resistance on the driveshaft during braking. The system converts this friction to usable energy that is stored in the system's 244.8V Nickel Metal Hydride (Ni-MH) battery for eventual use by the electric motor.
The Regenerative Cooperative Brake System calculates braking force generated by brake pedal operation and controls the regenerative brake force to convert kinetic energy into electric energy, optimizing energy regeneration.
The Altima Hybrid utilizes proven technology and components from Toyota Motor Corporation that are mated to Nissan's refined 2.5-liter engine.
For use in the 2007 Altima, Nissan's proven QR25 4-cylinder has been refined with a larger intake manifold, increased compression ratio and reduced friction characteristics. It also features continuously variable valve timing, modular engine design, microfinished crank journals and cam lobes, molybdenum-coated lightweight pistons and electronically controlled throttle.
Helping provide smooth acceleration and maximize powertrain efficiency is the Altima Hybrid's hybrid system-specific eCVT, which works in conjunction with the Hybrid Vehicle-Electric Control Unit (HV-ECU) to determine which power source or combination of power sources will turn the wheels.
The Altima Hybrid's electric motor produces high torque at low rpm, allowing it to utilize its Electric Vehicle (EV) mode to power the car from a standing idle and through initial acceleration without the assistance of the gasoline engine. While this stage of acceleration is a typical gasoline-only powered vehicle's least fuel-efficient stage, the Altima Hybrid offers much of its fuel-efficiency benefits here.
The Altima Hybrid's all-electric mode, called Electric Vehicle (EV) mode, occurs in the initial acceleration phase.
After the electric motor provides initial acceleration, the gasoline engine quietly starts and assumes the load of powering the vehicle. The gasoline engine works independently through cruising speeds until the vehicle reaches speeds at which fuel efficiency declines.
When loads require, the electric motor starts again and aids the gasoline engine in powering the Altima Hybrid. This allows the gasoline engine to remain in its ideal rpm range while the axle rpm simultaneously increases due to the extra power being contributed by the electric motor.
A digital display on the speedometer indicates when the Altima Hybrid is running solely on electric power. The Altima Hybrid's available DVD navigation system also features a real-time display showing how the hybrid system directs the flow of energy.
"The Altima Hybrid feels remarkably smooth – most drivers will never be aware of the transitions between the electric and gasoline power sources unless they are watching the display panel," said Bosley. "Mostly what they will feel is highly responsive acceleration and the seamless delivery of power under almost all driving conditions."
The Best of Both Worlds
The new Altima Hybrid is the sixth model in the 2007 Altima lineup, joining the Altima 2.5, 2.5 S, 2.5 S with SL Package and two 3.5-liter V6-powered models, the Altima 3.5 SE and 3.5 SL (each available beginning in November 2006). These new 2007 Altimas deliver on customers' desires for a rewarding, engaging driving and ownership experience.
"Altima has always been a leader in class when it comes to driving excitement and the new platform, suspension and powerful engines enhance the experience even more," said Bosley. "The Altima Hybrid makes no compromises when it comes to all the great Altima attributes – especially performance."
Serving as the foundation for the fourth generation 2007 Altima is Nissan's all-new "D" platform with improved body rigidity and a redesigned suspension. The new platform includes a subframe-mounted front suspension with new geometry and shock absorbers with rebound springs. The half-shafts now have equal angles and are more parallel to the ground – virtually eliminating traditional front-wheel drive torque steer.
Altima's new body design is a continuation of its distinctive, iconic, sporty design. The exterior features an aggressive stance, a strong wedge character line and signature Altima-style taillights. Inside, the new Altima utilizes refined workmanship, high-quality materials and a long list of available amenities. The Altima Hybrid shares exterior and interior designs with the other 2007 Altima models – with the exception of unique Hybrid badging and hybrid power/charge display in the driver information display.
The Hybrid model also shares Altima's extensive list of standard safety features, including dual-stage front air bags, front seat side-impact supplemental air bags for chest protection, roof-mounted curtain side-impact air bags for front and rear outboard occupant head protection and front seat Active Head Restraints.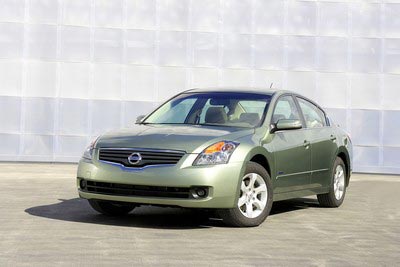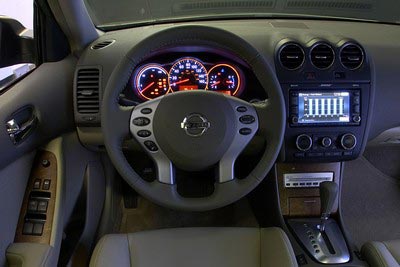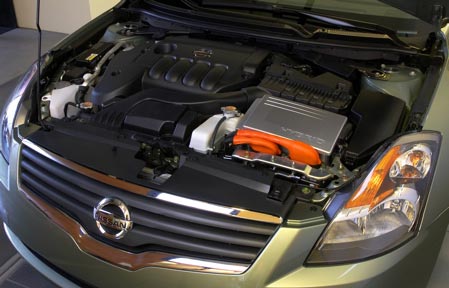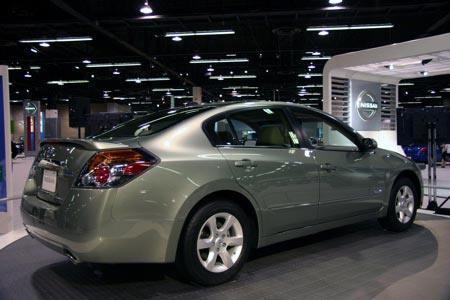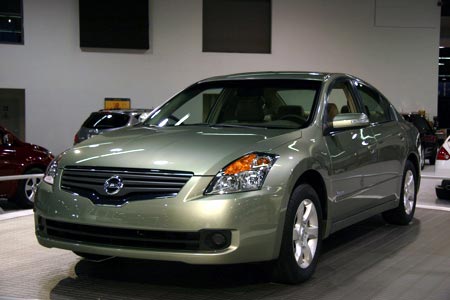 One Well-Equipped Model
The new Altima Hybrid is offered in one model, the Altima Hybrid, and with several optional equipment packages.
Standard equipment includes the 2.5-liter 4-cylinder engine and hybrid electric components, Vehicle Dynamic Control (VDC), Traction Control System (TCS), eCVT transmission, 4-wheel power-assisted disc brakes with Anti-lock Braking System (ABS), electric power rack-and-pinion steering, 4-wheel independent suspension and 16-inch aluminum-alloy wheels. Comfort and convenience features include standard Intelligent Key with Push Button Ignition and a dual-zone automatic temperature control that includes an Altima Hybrid-specific electrically powered A/C that continues to provide cooling when the gasoline engine is stopped.
The Altima Hybrid also joins other Altima models with an impressive list of available convenience features, including leather-appointed seating, Bluetooth' Hands-Free Phone System, RearView‰ Monitor, satellite radio and Nissan's Advanced Navigation System with real-time Energy Flow Display.
The new Altima will be assembled at the Nissan North America Manufacturing Smyrna, Tennessee plant.
"The Altima Hybrid is another example of Nissan's ongoing philosophy that passion for driving and passion for the environment are not mutually exclusive," said Bosley. "Whether it involves our wide application of efficient CVTs, our expanded availability of flexible fuel vehicles, or our ongoing research and development of fuel cell vehicles, Nissan believes that the more transparent "green technology" is, the more drivers will embrace it.
For more information on the 2007 Nissan Altima and other Nissan products, please visit www.nissannews.com.