The Ford Transit has for decades been the standard working horse of Europe and much of the rest of the world – the F-150 for our friends across the pond. The versatile work-a-day hauler was recently named Van of the Year by a pan-European panel of automotive journalists. (Why didn't they ask us? Just 'cause we can't find "Yurp" on a map doesn't mean we don't have an opinion!)
Ford's upping the ante and making a versatile vehicle even more versatile by offering the van now with four-wheel-drive. Mated to a 140-hp 2.4-liter turbodiesel through a six-speed floor-shifter, Ford expects the surefooted Transit to find its way into the garages of police departments, park rangers and rescue workers (among others) who'll undoubtedly find its enhanced capability to make for a handy tool.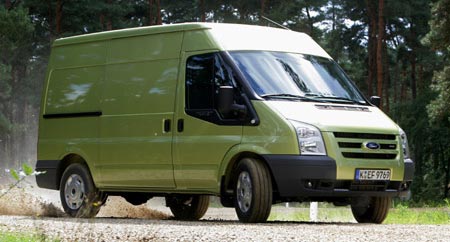 PRESS RELEASE: UNIQUE ALL-WHEEL-DRIVE SYSTEM FOR NEW ford TRANSIT REVEALED AT HANOVER SHOW
* Ford introduces an 'intelligent' all-wheel-drive system to the new Transit line-up
* Available on rear wheel drive Transit with 2.4-litre 140PS Duratorq TDCi diesel engine and six-speed manual transmission
* All-wheel-drive system increases traction without affecting road performance or ground clearance
* Ideal for utility companies, hotels, agricultural and forestry companies and police forces
* On sale in Britain first quarter 2007. Prices revealed closer to on-sale date
BRENTWOOD, Essex, 20 September, 2006 – A new all-wheel-drive (AWD) Ford Transit has been revealed this week at the Hanover Commercial Vehicle Show in Germany. The AWD system automatically provides stepless torque flow to the front wheels when required on slippery surfaces.
This new derivative is specifically targeted at customers who frequently face low friction surfaces, adding more flexibility and reliability to their transportation needs. The Transit's AWD system is available with the 2.4-litre 140 PS Duratorq TDCi diesel engine equipped with a six-speed manual transmission.
Steve Kimber, commercial vehicles director, Ford of Britain, said: "The new Transit range showcases what versatility for commercial vehicles is all about with a range of clean and efficient engines, front or rear wheel drive, dozens of body configurations, heavy duty front axle option, and passenger car comfort.
The addition of the AWD system extends the choice again adding extra confidence when driving over slippery road surfaces. The system's design helps to reduce friction and mechanical losses often associated with AWD technology."
The AWD system is purely mechanical and operates automatically so that the driver is not distracted by having to engage the system. In slippery conditions the system simply increases drive to the front wheels, enhancing the vehicle's overall road performance.
Drive is taken off the transmission main shaft via a helical gear set towards the front differential. A system of mechanical multiplate clutches combined with an hydraulic freewheel mechanism feeds power forward when required.
The smooth and intelligently controlled torque flow to the front wheels via the freewheeling hydraulic unit ensures that the Transit's well proven driving dynamics are maintained even under slippery conditions. Standard ground clearance is also retained as a bulky differential housing is not needed with this compact and lightweight AWD system.
Compared with the standard rear wheel drive Transit, the additional front axle weight is just 50 kg – the rear axle weight does not change.
The Ford Transit AWD will be offered with rear wheel drive, single rear wheel vehicles across a broad range of cab-styles including single and double chassis cab and minibuses, plus the Transit panel van range. Low, medium or high roof derivatives will be available and short, medium or long wheelbase.
Key customers for the new model are those frequently encountering low friction surfaces and bad weather conditions. Transit AWD has improved off road capability but does not include raised ground clearance, therefore retaining standard load heights.
The new Transit AWD is perfectly suited for authorities like police, forest wardens, rescue services and fire brigades, providing the reassurance and confidence to handle situations which are beyond the capabilities of a standard vehicle. Transit ambulances fitted with the AWD system, for example, will be more able to ensure ongoing mobility in adverse conditions and deliver patients safely where previously they may have been delayed.
Utility companies will also benefit from the capabilities of the Transit AWD, as they will be surefooted performers for field and track work (for example crossing a muddy field track to fix a pylon). Ultimately this saves time and means that utility resources can be more effectively deployed.
"The all-wheel-drive system is completely transparent to customers, requiring no driver intervention, and it doesn't sacrifice any of the vehicle's core commercial qualities. It greatly expands Transit's capability as it adds more safety and flexibility to any kind of delivery or transport usage," added Steve Kimber. [Ford UK]