We all know that in Europe you're less likely to run across a full-sized van being used to haul around a plumber and his plunger than you are in the States. Over there commercial transportation is often based on smaller vehicles that are converted into city vans with just the right amount of space for a laborer and his tools. Vauxhall will be showing this Corsavan concept at the Paris Motor Show next week that shows what its new Corsa compact could do for the commercial sector if given the chance.
The only visual cues that would tip one off to the Corsavan's purpose are blacked out side panels behind the door windows. Through the windows you can also make out a gate separating the driver and passenger from the fully-lined load bay. Being a concept, Vauxhall upped the show factor a bit by adding 17-inch wheels, red-painted brake calipers and the Corsa VXR styling pack that sharpens up the front bumper, sides sills and adds a rear spoiler. It's powered by a 1.3-liter CDTi diesel and shifts via a six-speed manual, which should make the plumber's ride over to fix your leaky faucet a bit more enjoyable.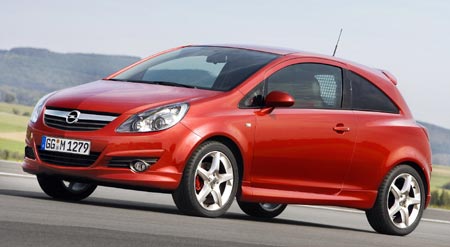 PRESS RELEASE: CORSA CONCEPT HAS LOADS OF STYLE!
o. All new Corsavan Concept to debut at Paris
o. Sporty looks, quality interior and large load capacity
o. Showcases further development of Corsa style
It's a van – but you'd be hard pushed to notice!
Making its debut at next week's Paris Motorshow, the Corsavan Concept takes the dynamic styling of New Corsa to an even sportier level, while also showing how the three-door car's looks would transfer to a city van.
Finished in the same glossy Glamour Red as the Opel GT Concept shown at Geneva, Corsavan Concept features black-coloured side panels to replace the three-door Corsa's windows without detracting from the car's coupe-like lines.
Distinctive sporty features include red front brake callipers, smart 17-inch alloy wheels and a VXR styling pack, comprising a new front bumper, side sills and a rear spoiler.
Black leather sports seats and piano-lacquer surfaces familiar from the Corsa hatchback complete the two-seater Corsavan Concept's interior, while a fully-lined load bay with a half-height bulkhead show how New Corsa's design translates into a very competent panel van, with a versatile load area.
The concept car is powered by New Corsa's 90PS 1.3-litre CDTi engine with a six-speed gearbox, making it the perfect choice for both urban and out of town use. [Vauxhall]