Volkswagen has revealed the new Touareg, which receives updates to both the front and rear fascias, as well as an interior refresh that includes new seats and a new high-zoot sound system. Up front, the Touareg adopts the current VW corporate look, getting Eos-style headlights and the chrome grille that's now trickling across the entire model range. The intakes in the corners of the bumper are now bissected by metallic strips, which add a nice bit of extra flash. Round foglights are integrated in the lower part of the bumper, and the hood and front fenders are also new for 2007. In back, the taillights, bumper, rear spoiler and exhaust have all been revised.
On the technical side, the Touareg now receives ABSPlus and enhanced ESP (including new features such as Active Rollover Protection). The engine lineup (for Europe) includes two gasoline and two diesel powerplants, headlined by the mighty 5.0L V10 TDI.
These visual updates are an example of taking a good thing and making it even better, as the new Touareg looks very sharp to these eyes. It will be on display for all to see at its debut in Paris next week.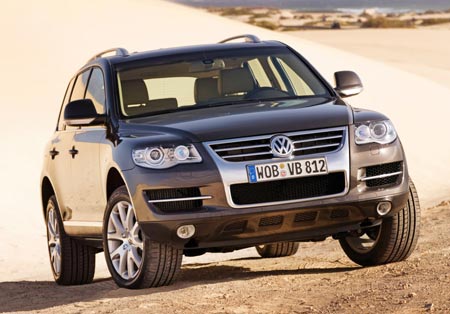 PRES RELEASE: NEW TOUAREG BREAKS COVER AHEAD OF WORLD DEBUT AT PARIS SHOW
Volkswagen has revealed the first photographs of its new Touareg luxury 4×4, ahead of its world public debut at the Paris Motor Show next week.
Sporting a new 'face', revised rear styling, updated interior and seats as well as the Dynaudio sound system as an option, the new Touareg will go on sale in the UK at the end of January 2007.
At the front, the new Touareg features a new grille, bonnet, front wings and bumper, plus new headlights and mirrors. The rear lights, spoiler, bumper and exhaust pipes have also been modified to freshen the 4×4's appearance.
The new Touareg will feature new and revised technology, including ABSPlus and additional ESP (Electronic Stabilisation Programme) features. ABSPlus has been developed and patented by Volkswagen and is a world first. The system shortens the braking distance by up to 20% on loose driving surfaces. New features have been added to the ESP, these include Active Rollover Protection (ARP), rain brake support, fading brake support and understeer control logic, which improves the turning behaviour in the event of understeer.
The UK line-up will remain as before with three trim levels – Touareg, SE and Altitude – all of which boast high levels of standard specification and trim.
Four engines will be available: one petrol and three diesel. These are a 3.6-litre V6 280 PS petrol; 2.5-litre TDI 174 PS with DPF (diesel particulate filter); 3.0-litre V6 TDI 225 PS with or without DPF; and the range-topping 5.0-litre V10 TDI with 313 PS and DPF. The 2.5-litre TDI will be available as standard with a six-speed manual gearbox and optional Tiptronic automatic transmission. All other engines will be mated to the six speed Tiptronic automatic transmission.
The current Touareg model went on sale in the UK in May 2003. The car is designed to deliver class-leading performance both on and off the road. Features such as permanent four-wheel drive, low and high gear ratios, electronic traction control linked to an auto-locking centre differential, hill start and descent assist and short front and rear overhangs all contribute to class-leading capability when venturing off the beaten track. Extremely steep slope angles are within the Touareg's capability, and versions with air suspension can ford depths of up to 580 mm.
Since launch, over 10,500 Touaregs have been sold in the UK. [Volkswagen]