Although several months old now, the Ferrari Classiche program had one of its big coming out parties at the LA Auto Show last week. A beautiful 275 GTB sat at the back of the Ferrari booth, glowing as brightly as the modern 599 GTB grand touring cars out in front. One of the first Classiche cars, it was sporting a wholly new engine under that elegant bonnet. Similar to what Mercedes does at the Classic Car Center in Irvine, CA, Ferrari offers Classiche customers the chance to have their classic or vintage vehicle restored using factory blueprints, parts, molds and technicians to guarantee its authenticity.
Unlike the Mercedes program, however, Ferrari does its restoration and certification in Maranello. In fact, the 10,000 square foot Classiche facility is housed in an area of the factory that was previously a foundry. Certain service facilities around the globe will be added to the Classiche program, but where's the fun in that? Might as well have it done where the cars were born, right? Road cars that are at least 20 years old, or racecars of any year are shipped back to the factory, evaluated for originality and then accepted or rejected. It is expected that only a fraction of the potential customer cars will meet the stringent criteria for entry into the program.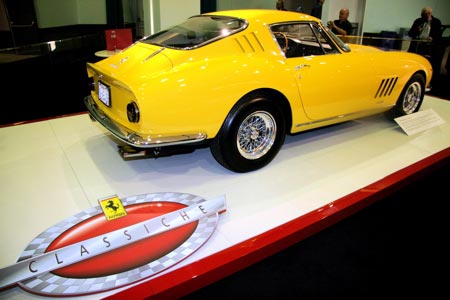 Follow the jump for more info on what the Classiche program offers Ferrari customers and how it works…
If accepted, the car will be restored using genuine Ferrari parts from NOS or will have reproduction pieces made using original molds when possible. Think of it as the ultimate certified pre-owned program. With classic Ferrari values going through the roof in the '80s, many of the less desirable cars were unfortunately converted to replicate more valuable models. A program like this helps to guarantee that everything is copasetic when people go to sell their cars. The certification part is one of the more important aspects of the program, helping owners prove their car's worth and allowing the vehicles to participate in vintage events more easily.
But the Classiche program will do so much more than that. Jean Todt had given us a hint of what else is in store when he talked about the program at its opening in July. He promised that Classiche customers would have "a nice clubhouse at Fiorano." The idea is that the program will cater to Ferrari owners and enthusiasts and it will act as a country club of sorts. Vintage race support from the factory will also be available to participants. Finally, the Classiche program is also a sensible way for Ferrari to stay in touch with its classic car owners, who might not be known to new car dealers, and possibly selling them new Ferraris in the process. Keeping people in the fold, taking care of their old cars and helping them into new ones: that's the kind of synergy we can get behind.