Most carmakers have to choose either a supercharger or turbocharger to boost an engine. Volkswagen will use both in a bid to reduce fuel consumption of small petrol engines. That might sound crazy, but by using both forms of boosting technology, Volkswagen is able to reduce the size of an engine and maintain healthy performance.
The first engine to use this new system, which VW calls Twincharging, is only 1.4-litres, but produces 125kW and 240Nm.
To put that into context, a non-boosted 2.5-litre four-cylinder that powers a US-specification VW Jetta generates 110kW and 230Nm. To top it off, the 1.4-litre four-cylinder TSI Twincharger as fitted to the Golf GT uses a meagre 7.2 litres of petrol per 100km of city and highway driving when tested to European standards. The less-powerful 2.5-litre engine uses considerably more.
Australians should have their first chance to own a car with Twincharger technology late next year when the Golf GT is expected to arrive. Using a supercharger and a turbocharger is not new. Lancia fitted a double-boosted engine to its Delta rally car of the 1980s, but no serious production vehicles have used the technology until now.
Volkswagen, which is at the forefront of diesel-engine technology, started to examine the potential of its Twincharger technology because it felt petrol engines were falling behind their oil-burning counterparts.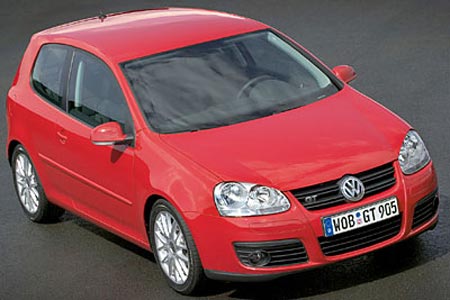 It started by looking at turbochargers. Turbochargers work by using the force generated by exhaust gasses to force air into the engine, but they can take a while to get going. Volkswagen found that simply fitting a turbocharger to a smaller engine didn't work so well before the turbo started to wind up.
"At low speed, small engines don't have enough torque to work well with a regular turbo," TSI Twincharger development chief, Hermann Middendorf, says.
Superchargers are driven by the engine's crankshaft, so they wind-up and provide boost quickly. So the Twincharger engine uses a supercharger for low-down grunt before the turbocharger takes over. The idea is to produce a torquey engine that punches hard all the way through the rev-range.
Volkswagen chose its existing 1.4-litre four-cylinder engine as a base for the TSI powerplant, adding direct petrol-injection. The engineers also wanted to run a higher compression ratio (10:1), so instead of using a regular aluminium engine block, they designed one made of stronger cast iron.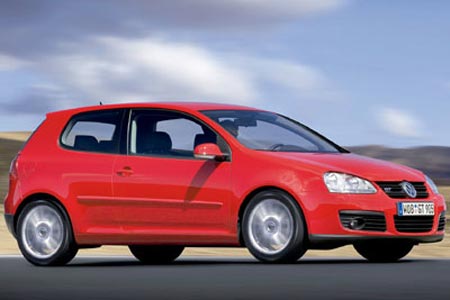 To maximise efficiency, VW also set-up the supercharger so that it only comes on if the driver needs it. If you put your foot down hard, the supercharger spins up. If you go easy with the right foot, the air intake simply bypasses the supercharger to save fuel.
The same bypass valve is used when the engine switches off the supercharger as the turbo spools up. The Golf GT is available in Europe with a six-speed manual or six-speed DSG automatic driving the front wheels.
Other models are expected to take up Twincharger technology and VW has already fitted a 103kW version to its Touran people mover, tuned more for economy than power.
ON THE ROAD
A German Autobahn is a good place to test an engine. A smooth, wide road with no speed limit in many areas, minimal traffic and good weather allow us to push the Golf GT's Twincharger. The run between Wolfsburg and Dresden is an eye-opening experience.
The first test is to see how it will pull in sixth gear from about 90km/h. You would expect a weeny 1.4-litre to cough and splutter, but the double-boosted engine responds quickly and pushes the speedo past 100km/h — the needle moving easily all the way to 200km/h. That is seriously impressive. But how is that test relevant to Australia, where the only place you can legally do those speeds are the baked tarmac freeways of the Northern Territory?
Well, it reveals just how much pulling power this special 1.4-litre engine has.
Perhaps more practical is how the engine responds around town or on twisting roads, with a manual. With supercharger and turbo working away, you can leave the engine in a higher gear and forget about it. You don't need to keep shuffling between gears, because either one will do much of the work for you. The supercharger, if enacted, provides the boost up to about 3500 revs before the bypass valve is switched on.
It is about this time that the turbo has gained enough speed. It's all pretty much seamless. You can hear the slight metallic whine of the Roots-type supercharger and some turbo woosh, but only just, and only if you are listening for it. That's not to say the engine is perfect. In some driving conditions you can re-apply the throttle and the engine takes a moment to provide some form of boost, but this doesn't happen often.
The best thing about the Twincharger is the width of the powerband. A comparable diesel only gives you a burst of power in a very narrow band, but the Twincharger has impressive urge from down low to about 6000revs. Fuel consumption has not been tested to Australian conditions.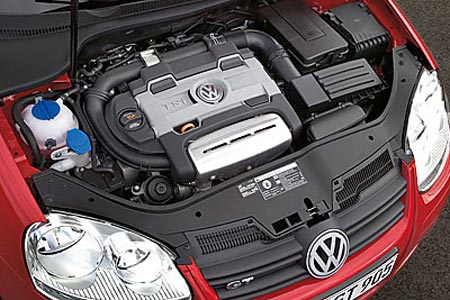 That and the price will be revealed closer to launch. The figure we gain in Germany, an average of about 9L/100km, is not representative because the engine spends a lot of time at 5000 revs or more as we push it hard. Still, many people who push a boosted performance engine hard would be happy with that kind of consumption. The Golf GT test cars are all manuals, so we can't tell you what it is like with the auto. VW Australia is yet to lock in the local specifications.
The European models come with a nice sprinkling of premium gear, including heated sports seats, dual-zone climate control airconditioning, leather steering-wheel cover and metal trim on the wheel, around the gearstick and across the dashboard. But whatever kit it has, Golf GT's TSI Twincharger engine will be a star, and a win for petrol lovers who want performance and economy without going to diesel. [carsguide]