At a private function at the Paris Motor Show yesterday evening, Ian Robertson, Chairman and Chief Executive of Rolls-Royce Motor Cars, confirmed that work has begun on a new model series. It will be launched within the next four years. The new car will be smaller than the Phantom (pictured) and cost between 200,000 Euros and 300,000 Euros before tax. Planning permission has been granted to expand business operations at Goodwood. Further details will be announced in the near future.
Sales of Rolls-Royce Phantoms are forecasted to be around 800 cars by the end of 2006, marking a fourth consecutive year of growth. The Phantom and extended wheelbase version will soon be joined by a new convertible model that will be unveiled in 2007.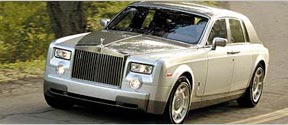 In January, the Washington Post, discussed the burgeoning market for more modestly priced ultra-high-end cars, with sales of outrageously expensive cars like the Rolls-Royce Phantom and Mercedes Maybach falling slightly.