Toyota has announced that the 2007 Tundra CrewMax (read: four-door model) will be unveiled at the 2007 North American International Auto Show in early January. But why wait until Autoblog arrives in Detroit next month to see the big behemoth, we have a blurry cameraphone pic of the CrewMax for you now. The photo was found by Autoblog reader Terry D. on SnoWest.com, a snow mobile forum of all places. Forum member polarman posted the shot along with some incredibly detailed information on the Tundra, which can be read after the jump. He claims to be in the know because he is a Toyota dealer, so while all bets are off concerning the veracity of the following claims, it's quite possible polarman's telling the truth.
Follow the jump for inside info on the Tundra's towing capicity and horsepower rating, as well as the company's official press release announcing the debut of the Crew Max in Detroit.  [Toyota and SnoWest.com]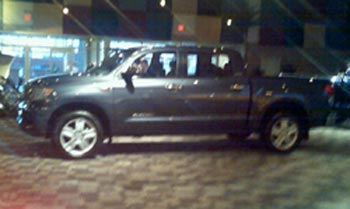 All-New Tundra CrewMax To Make World Debut At 2007 North American International Auto Show
December 5, 2006 – Torrance, CA – Toyota Motor Sales (TMS), U.S.A., Inc. will stage the world premiere of the all-new 2007 Tundra CrewMax full-size pickup at a press conference at the 2007 North American International Auto Show in Detroit. The four-door CrewMax will offer the most room, versatility and storage in the Tundra lineup.
Larger in every dimension than the model it replaces, the 2007 Tundra is available in 31 model configurations, with a choice between 4×2 and 4×4 drivetrains, and towing capacity of more than 10,000 lbs. This second-generation Tundra offers three cab styles, three wheelbases, three bed lengths, three engines, and three trim levels.
The next-generation Tundra was designed and engineered in the United States and will be assembled exclusively at the company's truck plants in Texas and Indiana.
The press conference will be held on Sunday, January 7 at 12:10 PM Eastern Time in the Riverview Ballroom in COBO Center and simulcast live to the Toyota display area at the show. A video clip of the press conference will be available for viewing following the event on the Toyota.com website.