THE Renault Laguna is back and the new-look model comes with a diesel engine only. There's a pile of letters in Renault Australia's Melbourne office that has been growing since the company returned here in 2001. They are from people who have driven its diesel cars in Europe, often as part of Renault's own Eurodrive leasing program. "Why can't we buy one here?" they ask. The new Laguna dCi means Renault can start replying — with good news.
Renault's medium car now comes in just one model, but it's a diesel. A restyled version of the modest but well engineered mid-size sedan spearheads a diesel campaign that expands next year with oil-burning versions of the Megane hatchback and Scenic people-mover due by April. All will have automatic transmissions available in an acknowledgement by Renault headquarters that Australian driving preferences are different from Europe, where manuals rule.
Matching an automatic to the Laguna's 2.2-litre common rail diesel engine was one reason the car took so long to reach Australia, says Renault product planning director Christophe di-Perna.
By the time an automatic was available, the previous model Laguna was running out and it made more sense to launch the new engine in a new version of the car, he said.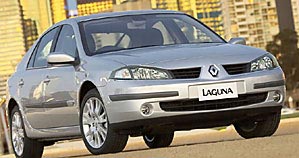 The new Laguna adopts the sharper front styling of the Megane but bodywork is little changed. The budget has gone into interior changes with a revised dash. The previous model's key card is now a keyless starter — you can keep it in your pocket and just press a button — and there's an automatic electronic parking brake.
Replacing the previous six models with one, the phase II Laguna is a fresh start for a marque that hasn't set the Australian market on fire. It's taken Renault six years to sell just under 19,000 cars — about what Volkswagen will sell this year.
But Renault sees redemption in diesel. The urbane Mr di-Perna expects diesels will form about 25 per cent of Megane and Scenic sales, and contribute to growth of 20 per cent next year.
After 200km in a Laguna dCi, Mr di-Perna's optimism seems reasonable. The 2.2-litre four-cylinder common-rail engine puts out 102kW and 320Nm, making it a respectable powerplant by the rapidly improving standards of European diesels. But it stands out, even in their company, for very impressive refinement.
The characteristic diesel rattle at idle — the London taxi sound — is absent, and ride is plush in a way all French cars used to be but some have lost. Fuel consumption of 7.7 litres per 100km is like a small-car figure.
Safety is well addressed with six airbags, electronic stability control, a five-star crash test rating and a licence-saving switchable speed limiter.
A five-speed automatic is the only transmission available on the Laguna 2.2dCi in Australia, It can be manually shifted, but we didn't bother. Even with clean kickdowns in automatic mode it became clear the Laguna dCi is no rocket. Standing-start acceleration is mild but like most diesels it feels stronger under way. Renault's diesel comeback is under way now with the Laguna dCi on sale now for $46,990. [The Australian]