Volvo has stepped performance up a gear, introducing a V8 engine for the first time, as well as a new and improved five-cylinder diesel engine into the XC90 range. It now includes the existing 154kW 2.5-litre, five-cylinder turbo engine, at $69,950, the new 2.4-litre, five-cylinder turbo diesel engine for $72,950 and the range-topping V8 for $84,950.
And it dispels any stereotypical connotations that may have previously been connected to the brand. Volvo boasts a whole lot of "firsts" and "bests" for this new 4.4-litre V8 engine.
It's the first V8 for the company, the cleanest petrol V8 and the most compact V8 on the market. Volvo also claims the XC90 is the world's safest SUV. This model is the first car to house the new V8 engine, producing 232kW of power at 5850rpm and a whopping 440Nm of torque at 3900rpm.
The V8 replaces the previous T6 engine and offers more torque and power, as a smooth runner both around town and on the highway. It growls nicely as the six-speed automatic transmission rolls over into each gear.
The V8, which wasn't initially on the cards for a right-hand drive, is fitted transversely like all Volvos. But Volvo expects its new diesel XC90 to be most popular in the range.
The cheaper, new and refined five-cylinder diesel engine produces slightly lower figures, with 136kW at 4000rpm and 400Nm at 2000rpm to 2750rpm. It has a claimed 9.0-litres per 100km consumption, compared with the claimed 13.5-litres per 100km for the V8 petrol.
The diesel also dispels the myth about noisy engines, as the cabin is relatively quiet, especially on highway cruising.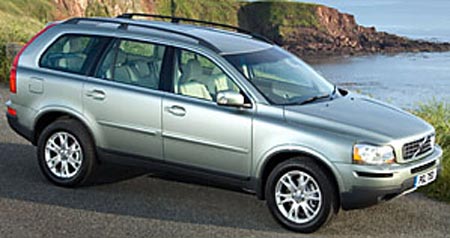 It has plenty of grunt when you accelerate from a standstill, with a slight lag, but responds reasonably quickly at both low and high revs. It also has good pull up hills.
It's a softer ride in the turbo diesel: even after a 20km forest run your backside couldn't complain. It handled well through a small creek, over bumps and on the dirt road. This diesel improves on power and torque figures over its predecessor and, with a particulate filter fitted, offers better tail-pipe emissions.
As with the V8, the diesel is mated to a new six-speed automatic transmission, featuring Geartronic function. Both new models feature an All Wheel Drive system with instant traction, improving the grip on bad surfaces.
The XC90 has had a few subtle changes, with a nose change for the V8 and changes with some of the plastics. It's a big car, but at the same time, it doesn't feel too big or bulky to drive like others in its class. You sit at a good position above the road and it is still easy to manoeuvre in carparks.
The XC90 comes with seven seats as standard and the second row can be moved to change the leg room. Space is generous throughout the car, and the front passenger travels in great comfort with good legroom.
Folding the seats is also easy, with each one folding individually. Volvo has a reputation for high levels of safety and the new XC90 doesn't disappoint, stretching features to the third row of seats. It is fitted with Roll Stability Control, safety belt tensioners and inflatable curtains and has received a five-star Euro NCAP rating. The car is also designed to be pedestrian friendly.
It comes with the usual nice touches as standard, including leather trim, electronic climate control, steering wheel controls, a removable front armrest and cruise control.
The V8 adds Premium Sound with Dynaudio sound system, with a six-disc in-dash CD player, heated front seats, 18-inch alloy wheels, rain sensor wipers and colour-coded wheel arches, as well as roof rails.
The XC90 gets a little pricier when adding options. A new Blind Spot Information System is available to warn of potential danger. With cameras under the large side mirrors, it can detect objects in your blind spot, setting off an alert light on the mirrors.
While this improves safety, it's just as easy to check your blind spot and you still find yourself doing it, so the jury is still out as to whether it's worth the extra $1200. The Satellite Navigation system, with a Park Assist camera, was impressive. Reversing cameras in large cars like this are an important feature, but together with the satellite navigation, it costs $5500, a rather expensive option.
Price: LE $69,950, D5 $72,950, V8 $84,950
Engine: 2.5-litre, 5-cylinder turbo engine, 154kW@5000rpm, 320Nm@1500-4500rpm; 2.4-litre, 5-cylinder turbo diesel engine, 136kW@4000rpm, 400Nm@2000-2750rpm; 4.4-litre, V8, 232kW@5850rpm, 440Nm@3900rpm.
Transmission: 5-speed auto with Geartronic (LE), 6-speed auto with Geartronic (D5 and V8). Fuel: 80-litre tank, LE 12.0L/100km (claimed), D5 9.0L/100km (claimed), V8 13.5L/100km (claimed). [The Daily Telegraph]