Mazda blew it big time 15 years ago when it tried to cram its dealerships full of flashy new models without the marketing muscle to back them up. The brand has been paying the price ever since. So is Mazda on the brink of repeating that mistake in 2007? Not if David Klan can help it. The new director of marketing operations for Mazda Motor Corp.'s North American sales arm faces a tough challenge in 2007. But Klan says he is not worried about Mazda losing its zoom-zoom mojo.
Mazda is expanding its lineup to nine nameplates in 16 body styles, up from seven nameplates and 10 body styles in 2005. And while it's known mainly for selling performance cars, Mazda's has been moving into the crossover arena with the new CX-7 and CX-9 and redesigned Tribute.
But Klan does not see crossing over into crossovers as a dramatic leap.
"The crossovers are a natural extension of the brand," Klan said in an interview. "Mazda is not going to build typical boxy SUVs. We will market to our strengths in design and dynamics."
The bigger challenge, he said, is making people aware that Mazda has 16 different body styles.
Given the relatively small size of Mazda's marketing budget, advertising all those products is not practical. Instead, Mazda will concentrate on the Mazda3, Mazda6 and RX-8, and the CX-7, CX-9 and Tribute launches. A redesigned Mazda6 sedan, hatchback and wagon also will arrive for 2007. Later in the year, Mazda may run spots that feature the entire product lineup, Klan said.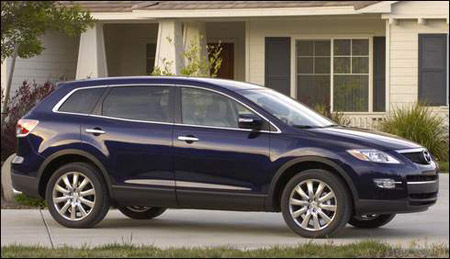 "There is a challenge in familiarizing people with our entire brand," he said.
Klan said Mazda's national advertising budget will increase in 2007, but he declined to say by how much. He said Mazda's spending on incentives, subsidized financing and the like is among the lowest in the industry.
Mazda has tried to expand quickly before, with lousy results. In the late 1980s and early 1990s, Mazda furiously cranked up its product lineup, only to run short of marketing funds when Japan's bubble economy burst. Several new models flopped on dealership lots. Mazda has spent the years since trying to recover. Executives promise 2007 will not be a repeat of that disaster.
Klan, who previously headed Mazda's global marketing in Hiroshima, Japan, took the U.S. post in August. He will focus on more than just advertising. Customer relationship marketing is high on his priority list. Mazda usually finishes near or at the bottom of J.D. Power's sales satisfaction, customer service and owner retention surveys. That is a bad sign for a small brand that thrives on emotion.
While Mazda's new "Retail Revolution" showrooms may lure new shoppers, dealers have to do their part, Klan said.
"Consumers are buying for emotion, not for the price or the deal," he said. "We want to be the most aspirational accessible brand. But we have to behave that way for our customers." [auto week]