Audi's return on capital this year will exceed 10 percent for the first time, company sources have told Automobilwoche. Last year the figure was 9.7 percent.  That will approach the returns of rival BMW. Given Audi's heavy spending for new models and the expansion of its dealer network, says Albrecht Denninghoff, an analyst at Commerzbank, "10 percent is a good figure."
With the new mark, Audi will have twice surpassed the 9 percent return on capital demanded by parent Volkswagen.
The company also will move closer to BMW. Dresdner Kleinwort analyst Arndt Ellinghorst estimates that BMW will achieve an 11 percent return on capital this year, excluding its financial services segment.
But Audi has it easier than BMW. Audi can "fall back on the resources of the parent company," he said.
Incoming Audi Chairman Rupert Stadler, who takes over Jan. 1, faces the crucial task of boosting Audi's sales and brand image.
That will be especially challenging in the United States. Audi was able to increase U.S. sales by 5.4 percent through November, to 78,219 vehicles.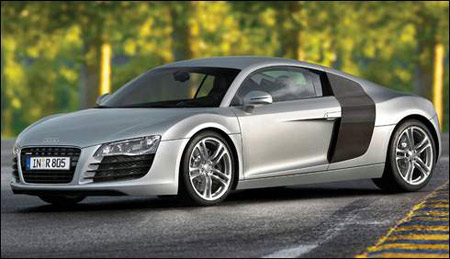 Compared with BMW, Audi's volume remains small. BMW sold 243,487 vehicles in the United States in the same period, excluding Mini and Rolls-Royce.
But Audi's limping U.S. sales do offer a slight advantage, Denninghoff says. Because Audi's volume is relatively small, the weak dollar has only a slight effect on the automaker's bottom line. But longer term, the dollar will become a bigger problem, he adds.
Stadler has told analysts he will not build a U.S. factory. The currency advantage is too small to justify the investment, he has said.
Stadler, a careful manager, is moving up from CFO. He believes success will come from broadening Audi's product lineup. Audi will invest $11.00 billion in new products by 2011. By 2015, plans call for the number of models to grow from 22 to 40.
Departing Audi Chairman Martin Winterkorn, who takes over as VW group chairman Jan. 1, has given Stadler specific near-term goals. Starting in 2008, Audi is expected to sell 1 million vehicles a year. By 2015 it should be the "leading luxury manufacturer in the world," delivering 1.4 million cars a year.
The early results are good. Audi sold 833,000 units worldwide through November, compared with 766,629 for all of 2005.
Ralph Weyler, Audi board member responsible for sales and marketing, is targeting sales of 900,000 vehicles for 2006. [autoweek]