With the MKR concept, Lincoln revisits a proud heritage, hints at its design future and kicks off what could be a final effort to survive in the increasingly tough luxury market. Ford Motor Co. is counting on North American styling chief Peter Horbury to right Lincoln's sinking ship with a new design theme. And the MKR, which debuts next week at the Detroit auto show, showcases that new direction. Some touches, such as the glass roof, aren't practical and seek to generate excitement for a brand in desperate need of a makeover. But many key decisions — such as the platform, suspension and engine — were made with a business case in mind, a sign Ford Motor knows it needs to move fast.
"We had lost focus," says Mark Fields, Ford Motor's president of the Americas. "When you lose focus, you lose, because the competition is very, very tough in that segment. We (have) an opportunity, but it's a time-based opportunity. It's not going to be there forever."
Lincoln's decline has been steep. U.S. sales have fallen from a peak of 231,660 in 1990 to 123,207 in 2005.
Fields has backed away from the optimistic 2005 prediction of former Lincoln Mercury chief Darryl Hazel that the two brands would sell a combined 500,000 units by 2010. Lincoln Mercury volume for 2005 was 319,156 units, down from a high of 767,985 in 1978.
Such an overblown projection, Fields says, "bastardizes the process" of reviving a brand.
Fields won't share his new expectations for Lincoln sales volume, and he has not fast-tracked the MKR for possible production. But observers might be encouraged by the ruthlessly practical streak that guided the concept's development.
Making the business case
From the platform to the door design, the choices made on the MKR enhance the business case for building it.
Planners knew the business case for the MKR would improve if it shared underpinnings with a production vehicle such as the Mustang. So Lincoln stretched the existing Ford Mustang platform by 6 inches.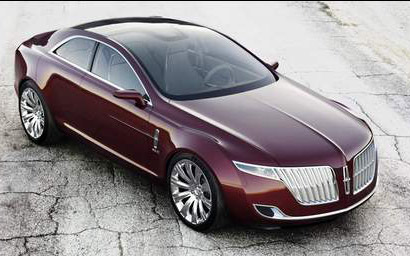 Not coincidentally, the Ford brand used a stretched Mustang platform to produce the rear-drive Interceptor concept sedan, which also debuts at the Detroit show.
The MKR also employs an independent rear suspension module initially developed for special-edition Mustangs and then shelved. And it uses a twin-turbocharged 3.5-liter engine developed for possible use in other vehicles. Since development costs for those features are paid for already, the MKR's business case improves.
Designers originally wanted Lincoln's iconic suicide doors. But that would mean higher design and production costs to meet safety standards. So, in another nod to the business case, conventional rear doors won out. "We wanted to make sure we had some reality baked into it," says MKR chief designer Gordon Platto about the vehicle. "The ultimate reward is seeing it on the road."
There have been past efforts to revive Lincoln's look. And Horbury thinks he knows why they failed: They were directed at specific vehicles and not the entire portfolio.
"There were many visions, and that's a problem," Horbury says.
Determined to avoid repeating that mistake, Horbury decided to use a strategy he used successfully at his previous job as Volvo's chief designer. At Volvo, he mined the Swedish brand's heritage to develop key design elements for all future Volvos.
Likewise, he asked his Lincoln designers to immerse themselves in Lincoln's past and America's luxury culture. The team closely studied memorable Lincolns, particularly the 1941 Continental, 1956 Mark II, 1961 Continental, 1966 Continental and 1984 Mark VII.
Then they took a field trip to Southern California to fine-tune the vision. They visited luxury hotels, from the big and brash to the small and discreet.
At the Montage Resort and Spa in Laguna Beach, Calif., the team found its touchstone. "This is where people spend fortunes, but you'd never know it," Horbury says.
Understated elegance
Thus the team decided that the Lincoln look should be that of understated elegance. In the new design palette, that sensibility translates to clean body sides, thick C-pillars and a split grille evoking the 1941 Lincoln Continental Cabriolet. In all, there will be seven key design cues for future Lincolns. Vehicles might feature four or five of these themes, rather than all seven.
"It's not meant to be a superprescriptive process in which everything ends up looking the same," Horbury explains. "We want to have people know it's a Lincoln, but can't explain why. We found Lincoln was at its best when it was this discreet, this simple, and the customer was confident not to need the brashness of Cadillac."
Whether or not the MKR actually gets built, it provides designers with a menu of styling cues for future Lincolns. But it will take several years for those styling cues to appear throughout the Lincoln lineup.
While the MKR is still only a show car, Lincoln dealers are feeling a sense of urgency about the car and its promise of a new design trend.
"Lincoln still is a great name, and they can turn it around with exciting product," says Bob Tasca Jr., chairman of the Lincoln Mercury dealer council and president of Tasca Automotive Group in Cranston, R.I.
"But this is their last chance. If they don't do it right now, I don't think they'll have a second chance. And they realize it." [Auto Week]