We know God loves us. How else can one explain the existence of GeigerCars? Whether it's a 700-horsepower police H2, an audacious Gulf-liveried HUMMER GT, or any number of the various customer cars the company has prepared, no one knows how to hook up a HUMMER like Geiger. Modders who think they've accomplished something by throwing on donks, a killer stereo and calling it a day are simply not in the same ballpark.
Not to say that the GeigerCars' HUMMERs aren't ridiculous. They certainly are. But some of its specials have a certain kind of charm, and the latest fun creation is a perfect example. Behold the GeigerCars Christmas Edition HUMMER H2. Created for a German television program, the machine sports the seemingly-requisite Lambo doors, is finished in bright red, and has a custom winter scene featuring the Star of Bethlehem airbrushed on its newly-panelized side (Geiger welded steel covers over the rear windows). In addition to all that, the truck's full profile is decked out in lights, Christmas-style. And here we thought people got carried away just lighting up their homes…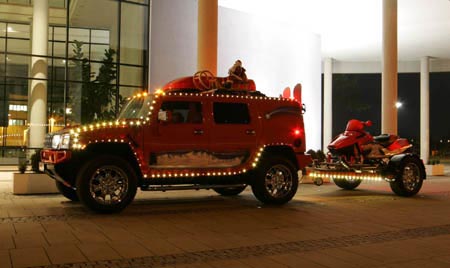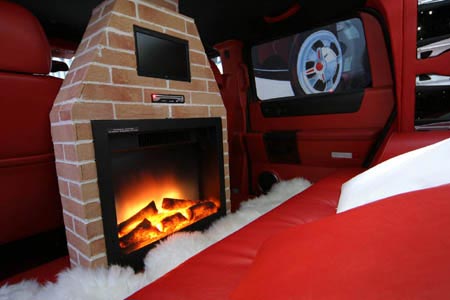 The winter theme is reinforced by a matching snowmobile towed behind the HoliHUMMER, a roof-mounted Santa and toboggan, as well as a pair of snowboards stowed vertically at the rear.
Open the doors and you're welcomed into a red leather holiday cocoon, replete with full A/V system, bearskin rug, electric fireplace, and auxiliary heater. It's very cozy, as illustrated by Santa's helper below. The rear cargo area features a 42″ TV and storage for warm drinks and snacks. In all, it's a fun, kitschy custom that takes Christmas to HUMMERized levels of excess. We love it, and some lucky German now has the ultimate seasonal vehicle — the €110,000 Christmas HUMMER was raffled off among the viewers of the program it was created for.
That's one pimpin' sled (pun very much intended). Merry Christmas, indeed! [GeigerCars]
The Reindeer Sleigh Takes a Break!
GeigerCars.de Builds the Christmas HUMMER H2
Santa's good old reindeer sleigh is taking a break. This year Santa will deliver his presents using a very special HUMMER H2 from GeigerCars.de! Europe's largest HUMMER dealer and leading European tuner of American automobiles built a Christmas HUMMER with lots of festive extras for the TV magazine Galileo on the German 'Pro 7' channel.
On the outside St. Nick's new company vehicle sports a fiery red special-effect paintjob from Munich paint specialist Michael Rollwage, complete with an airbrushed winter scene and a depiction of the Star of Bethlehem.
The body was also modified extensively. The front doors no longer open in the conventional way; they now open by swinging up like gullwing doors. Tin-coated metal moldings that have been welded seamlessly into the rear side window openings turn the H2 into a true panel cruiser. To perfect the Christmas looks the body was further fitted with 250 LED lamps that clearly define the H2's contours at night.
The H2 also provides everything Santa needs for his winter fitness program: A specially designed external rear luggage rack safely holds two HEAD Snowboards as well as two EBRA curling stones and hockey sticks. A large roof carrier box is also part of the exclusive equipment as is an old-fashioned sled.
The spectacular GeigerCars.de Christmas HUMMER looks are further characterized by 10Jx22 chrome wheels with Pirelli Scorpion ATR tires in size 325/55 R 22.
And should the snow get too deep for even the HUMMER H2, Santa Claus can switch to the snowmobile painted in the same theme as the HUMMER itself. The GeigerCars.de technicians custom-built a special trailer based on an ALKO chassis that runs on the same 22-inch light-alloy wheels as the Christmas HUMMER.
Special emphasis was placed on a cuddly interior ambiance. Master upholsterer Andi Richter fitted the entire interior with red leather and carpet, color-coordinated with the exterior color. Walnut-burl applications add further attractive visual highlights.
Reportedly Santa Claus is a big music enthusiast and thus sound specialist Thomas Regler equipped the HUMMER with a custom-tailored JBL sound system with 3,800 watts. But why stop there? The images from the digital TV receiver or from a DVD play on no less than three screens; in the front row, in the lavish rear compartment and in what used to be the trunk.
All it takes to start a great après-ski party is to open the liftgate: The restyled trunk now not only offers maximum viewing pleasure with a 42-inch LCD widescreen TV, and sound from the mighty JBL speakers: Integrated thermos cans provide hot mulled wine while a heated stainless-steel box can hold warm cookies.
For a comfortable and romantic time after the party the rear compartment – visually enlarged by a mirror on the rear wall – features an electric fireplace with white fake bearskin rug, an auxiliary Webasto heater and a large red leather couch.
The GeigerCars.de Christmas HUMMER represents a value of some 110,000 Euros and was raffled off among the Galileo viewers. We don't know what Santa Claus thought about the loss of his 320-hp company vehicle.