In a smart little initiative, GM is targeting fire/rescue personnel by offering a special First Responder package on the HUMMER H3. Here's the deal: firefighters and rescue workers associated with fire departments who buy or lease an H3 between October 1 and December 31, 2006 will receive the First Responder package for free.
As for the contents of said package, the purchaser/lessee can select from either an emergency light package (cool!) or a black wraparound brush guard and foglights. According to the GM press release, the light package is valued at up to $2,500 depending on which is chosen (there are two options), making the First Responder package seem like a pretty good deal, indeed.
Personally, I'd have taken it one step further and included a DVD entertainment system along with seasons 1 & 2 of the awesome 70s rescue drama, Emergency! But that's just me…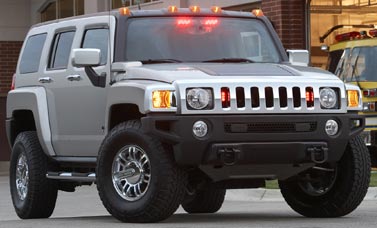 Press Release: Hummer On The Scene For First Responders
DALLAS – In emergency response, every second counts. It's why the nation's first responders choose a vehicle that can get them to the scene of an emergency quickly and safely, regardless of the terrain or weather. It's also why HUMMER is first on the scene for these brave men and women with the exclusive First Responder package on the capable, midsize H3.
Between October 1 and December 31, 2006, when an active member of the fire and rescue community – volunteer or career firefighter or emergency response personnel associated with a fire association – purchases or leases a new HUMMER H3, the vehicle will include the HUMMER First Responder package at no additional cost.
The HUMMER First Responder package includes the purchaser's choice of either an emergency signal package from Whelen Engineering Inc. (whelen.com) or Federal Signal (federalsignal.com) valued at up to $2,500, or a black wraparound brushguard and lower grille-mounted off-road lights.
According to the U.S. Fire Administration, 95 percent of the nation's volunteer firefighters are in rural departments where the go-anywhere capability of the H3 combined with its size and efficiency makes the H3 the ideal emergency response vehicle.
An example of the HUMMER H3 equipped with the First Responder package will be first shown to the emergency response community in the GM display at the Fire-Rescue International 2006 show, September 15-16, 2006, in Dallas.
Roughly the same length as a midsize family sedan, H3 delivers HUMMER's best-in-class all-terrain capability, like the ability to ford two feet of water or climb a 16-inch obstacle. And with a responsive 242-horsepower Vortec inline five-cylinder engine, turning radius comparable to a compact sedan and fuel economy ratings as high as 20 miles per gallon, the H3 comfortably navigates city traffic making it just as refined on-road, as it is capable off-road.[GM]