It may not look like anything revolutionary to the untrained eye, but to hear DaimlerChrysler tell it, the all-new Freightliner Cascadia is very much a big deal. It's built on a new platform that readily accepts EPA '07-compliant engines and is ready to play home to powerplants built off DCX's Global Heavy Duty Engine Platform, the first of which are set to arrive later this year from Detroit Diesel. It also incorporates a new, common Electric/Electronic Architecture, and many features and systems were designed from the outset to be easily accessible, repairable, and/or replaceable to ensure that the rig's able to maximize its on-road time.
It's lighter than other competitors due in large part to its aluminum cab, and boasts a 3% increase in fuel efficiency over its predecessors thanks to a design that was perfected using Freightliner's wind tunnel, which is the only one designed for vehicles of this class. Driver and passenger are not ignored either. The cab features car-inspired ergonomics, an improved HVAC system, copious sound-deadening measures, larger seats that sit on their own shock absorbers tuned to the trucks suspension settings, improved lighting, and more. You can get additional details via the Cascadia website and DCX's press release.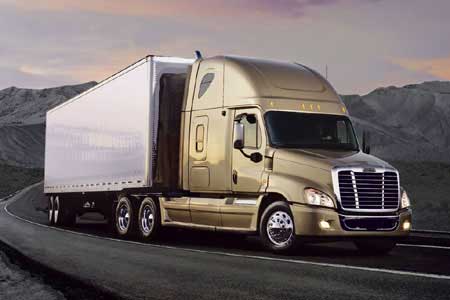 PRESS RELEASE:
Freightliner Trucks Introduces Ground-Breaking New On-Highway Truck
* Freightliner Cascadiaâ"¢ Optimized for Fuel Efficiency, Cab Comfort and Drivability
* Andreas Renschler, DaimlerChrysler Board of Management Member responsible for the Truck Group: "First truck equipped with new global Heavy-Duty Engine Platform and common Electric/Electronic Architecture"
Stuttgart/Charlotte, N.C., May 03, 2007
Freightliner Trucks today launched the Cascadia™ – a revolutionary new Class 8 truck for on-highway applications. Built from an entirely new platform, the Cascadia delivers significant fuel savings and is designed based on the Run Smart™ philosophy to be the most productive, efficient, and drivable truck on the market. Plus, with its new styling, a quieter and more comfortable cab, ergonomic controls, and exceptional handling, the Cascadia was specifically constructed with driver comfort and improved operating ratios in mind.
Andreas Renschler, Member of the DaimlerChrysler Board of Management responsible for the Truck Group, said at the official presentation of the new truck in Charlotte, North Carolina: "With our five truck brands Freightliner, Sterling, Western Star, Mercedes-Benz and Mitsubishi Fuso ensuring our world-wide presence, we are able to leverage the global resources and expertise of the Truck Group for the benefit of each brand." Renschler continued: "The Cascadia profits in many ways from our global experience: It is the first truck that will be equipped with our new global Heavy-Duty Engine Platform as well as the new common Electric/ Electronic architecture. Freightliner's new flagship truck will be manufactured using our high level DaimlerChrysler production system."
The Cascadia was designed to easily accept EPA '07 emission engines. Its expandable electronic platform can easily accommodate the technology. Plus, the Cascadia was built to be paired with the all-new global Heavy-Duty Engine Platform, the first of which will debut later this year under the Detroit Diesel engine brand.
The Cascadia offers a 3 percent improvement in fuel economy over previous models. To achieve this, more than one million engineering hours, including 2,500 hours in Freightliner's state-of-the-art full scale wind tunnel, went into its development. It is the first truck built and engineered using Freightliner LLC's wind tunnel – the only testing facility in the world built specifically for Class 8 vehicles.
"Our customers are faced with the consequences of ever-tightening emissions standards, higher fuel prices, rapidly escalating wages and benefits, and a dire shortage of maintenance technicians," said Chris Patterson, president and CEO of Freightliner LLC. "Freightliner was built on solving our customers' most pressing concerns, and only Freightliner has the resources and the know-how to bring a completely new model to market at this difficult time for the trucking and truck-building industries."
Freightliner initiated an extensive study of its key customers' needs and issues to evaluate product improvements that could alleviate these stresses. Numerous fleet owners and owner-operators provided detailed feedback about everything from cost-saving features to comfort options and aesthetic attributes.
Thus the truck also was designed to maximize payload. The aluminum cab boasts a significant weight savings over steel, and the hood, bumper and quarter fenders are lighter than comparable models. All of these improvements enable operators to haul more freight.
Features such as improved diagnostics, an HVAC system designed to reduce repair frequency, and breakaway side extenders ensure that the Cascadia stays on the road and out of the shop. Other maintenance upgrades include an easy-to-replace roped-in windshield, extended life headlamp bulbs, and easy access to the engine and accessory components mounted to it.
When developing the Cascadia, Freightliner engineers studied the needs of drivers and how they operate their vehicles. This feedback was the basis for design features like a wider cab with automotive styling, ergonomic controls, and extensive lighting and storage space to make the cab more comfortable and livable. With all these features, the Cascadia will also boast a high resale value.
The Cascadia is available for order in mid-May, with trucks rolling off production lines in August 2007.
Freightliner Trucks is a division of Freightliner LLC, headquartered in Portland, Oregon, and is the leading heavy-duty truck manufacturer in North America. Freightliner LLC produces and markets Class 3-8 trucks and is a part of the DaimlerChrysler Truck Group, the world's leading commercial vehicle manufacturer. [DaimlerChrysler]