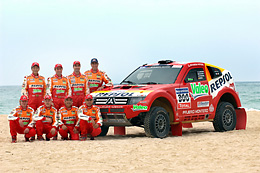 Mitsubishi Motors Corporation (MMC) and its motorsport unit Mitsubishi Motor Sport (MMSP) will enter a field of four cars for the 2008 Dakar Rally* which this year celebrates its 30th anniversary. Next year's event will start from Lisbon, the capital of Portugal, on January 5 and will arrive in the Senegal capital, Dakar, on January 20 after passing via Spain, Morocco and Mauritania. The total route length is 9,273km, including 5,736km in competitive special stages and the toughest challenge promises to be the dunes that competitors will find in Mauritania.
The Mitsubishi squad is led by Hiroshi Masuoka (Japan) who won the event consecutively in 2002 and 2003. The Japanese veteran will be joined in the team's strong driver line-up by Stéphane Peterhansel (France), who has nine previous Dakar wins on two and four wheels to his name and winner of the 2007 rally, and Luc Alphand (France), who has obtained excellent results on the event since 2005, including an outright win in 2006. Joan 'Nani' Roma (Spain), winner of the motorbike category in 2004 and who is making excellent progress on four wheels, rounds off the team's talented foursome. The Pajero/Montero Evolution will feature ongoing improvements, as well as changes made mandatory by the latest regulations, and will make a key contribution to Mitsubishi's bid to secure its 13th Dakar win from 26 starts, and its eighth consecutive success.
* The 2008 event is officially known as the 'Euromilhoes Lisbon – Dakar 2008'. Euromilhoes, the title sponsor of the rally, is a lottery syndicate which has its headquarters in Portugal.
Team Repsol Mitsubishi Ralliart
– Title sponsor : Repsol (Petroleum company with its headquarters in Spain)
– Car : Pajero/Montero Evolution (MPR13)
РTeam Director : Dominique S̩rieys
– Driver/Co-driver : Hiroshi Masuoka (Japan) / Pascal Maimon (France)
Stéphane Peterhansel (France) / Jean-Paul Cottret (France)
Luc Alphand (France) / Gilles Picard (France)
Joan 'Nani' Roma (Spain) / Lucas Cruz Senra (Spain)
Mitsubishi Motors Corporation (MMC) is fully committed to building on its longstanding success on the Dakar Rally which it contested 26 times without interruption since its debut on the fifth edition in 1983. This time round, MMC will be targeting its 13th Dakar win, a result that would take its current run of success to eight consecutive victories. For the 2008 event, the total route has been extended to 9,273km, while the total competitive distance (stages) has also been upped to 5,736km. Both these totals represent an increase of more than 1,000km compared with the 2007 rally, and the additional stage mileage in the notorious Mauritanian desert promises to make next January's event even tougher and more challenging than ever. A further difficulty lies in the format of the two marathon stages during which overnight servicing is not permitted. The latest technical regulations dictate the switch to a 31mm diameter air restrictor, which is 1mm smaller than the air restrictor used in 2007. The 2008 event will also require competitors to use a five-speed gearbox instead of the former six-speed 'box. These changes have been introduced with a view to curbing dynamic performance, although the latest specification Pajero/Montero Evolution has improved in terms of handling and rough-road performance thanks to the significant work that has gone into the suspension and drive train. The 2008 car is ideally prepared to take on what could well prove to be one of the toughest Dakars in years.
Hiroshi Masuoka took consecutive Dakar wins in 2002 and 2003 and has contested the event on no fewer than 21 occasions. The Japanese veteran is confident that a third win is on the cards thanks to his experience and skill over dunes and desert terrain. Despite being sidelined in 2005 and 2006, Masuoka overcame a number of punctures and clutch problems to finish a strong 5th overall on the 2007 event. The two-time Dakar winner participated in the team's intensive three-week simulation test in Morocco in July and played an active part in the fitness training programs organized by the team during 2007 to build its drivers' physical and mental strength in readiness for the 2008 Dakar.
Stéphane Peterhansel joined Mitsubishi after collecting a record-breaking sixth Dakar win on two wheels. The Frenchman has since added three further wins to his name in the car category (2004, 2005 and 2007). His victory on November's UAE Desert Challenge, the final round of the 2007 FIA Cross-country Rally World Cup, shows that he has lost none of his natural speed and served as an ideal way to prepare his bid for a 10th Dakar win.
Former Downhill Skiing Champion Luc Alphand celebrated his first outing on the Dakar with Mitsubishi by finishing second overall event to secure an emphatic one-two finish for the team. The following year saw him outperform his more experienced team-mate, Peterhansel, to claim his maiden Dakar victory. Last year, he once again finished 2nd overall in the wake of his French team-mate and the ex-skiing star is likely to be a front-runner once again on the 2008 event.
Joan 'Nani' Roma stands out as another successful convert from two wheels to four following his incorporation in the factory Mitsubishi line-up in 2005. Underlining his talent and justifying the team's confidence in his ability, he finished on the Dakar podium (3rd) at only his second attempt. Problems prevented the Spaniard finishing any higher than 13th overall on the 2007 event, but he went on to take 2nd on the Rally Transiberico, the opening round of the 2007 FIA Cross-country World Cup, and he has all the makings of becoming one of the sport's stars of the future!
Team Director Dominique Sérieys is convinced that the 2008 Dakar will be a success: "The 30th Dakar has all the makings of being a huge challenge, especially the Mauritanian stages. That said, Mitsubishi has plenty of advantages in its favor thanks to the combination of the Pajero/Montero Evolution's reliability, durability and overall dynamic package and the experience and skill of our crews. Our recent win on the UAE Desert Challenge says a great deal about our capacity to take all the dunes and desert conditions in our stride. We face strong competition but we will have exactly the same driver and co-driver line-up as last year and I believe this consistency will be one of our strengths. We will be targeting our 13th win and our eighth consecutive success, but it won't be easy. Even so, we are convinced that our year-long preparation program has a very good chance of bearing fruit."
Pajero/Montero Evolution
Technical Overview
The Pajero/Montero Evolution is a Super Production rally car which complies with the FIA Group T1 technical regulations (modified cross-country rally car) that came into force in 2002. The car prepared for the 2003 event featured the same development codename (MPR10) as its predecessor. The introduction of technical evolutions saw the codename change in 2005 to become the MPR11, which in turn became the MPR12 for the 2006 rally. The MPR13 that made its debut in 2007 was an extensively upgraded version which featured an all-new frame structure.
Mitsubishi's latest contender features a rigid, lightweight multi-tubular frame which forms an integral load-bearing structure. With the fuel tank and spare wheel positioned lower down and in a more central location, the MPR13 boasts a favorable weight distribution. The wider front and rear track dimensions combine with the revised suspension geometry to ensure enhanced high-speed and maneuvering stability. The spacious cabin offers optimal seating positions for the driver and co-driver while at the same time guaranteeing competitive comfort even in extreme conditions. The Super Production Pajero/Montero Evolution has won the event five years in a row to take Mitsubishi's score to a record run of seven straight wins and its 12th in total from 26 starts.
Though the codename remains the same, the 2008 Pajero/Montero Evolution has reached its near perfect form. It features the mandatory changes required by the latest regulations, as well as a number of modifications aimed at improving its overall performance package. Changes include the inlet and exhaust systems which have been fine-tuned as a function of the new 31mm diameter air restrictor (compared with 32mm previously). The gear ratios have been optimized to match the new five-speed gearbox which replaces the six-speed 'box used on the 2007 event, while the larger diameter clutch is aimed at enhanced durability. Meanwhile, the extensive year-long testing program focused primarily on the suspension with the aim of improving maneuvering stability, performance over rough surfaces and ride quality. The program included a three-week test in Morocco in July 2007, during which the team covered 7,600km. The enhanced handling compensates for the slight losses in power and torque, although there is a more than a sufficient margin.
MITSUBISHI PAJERO/MONTERO EVOLUTION (MPR13)
DAKAR RALLY 2008 (T1 Modified Cross-Country Cars)
Technical Specification
OVERALL LENGTH : 4195mm
OVERALL WIDTH : 1990mm
WHEEL BASE : 2775mm
FRONT TRACK : 1750mm
REAR TRACK : 1750mm
ENGINE MODEL : Based on Mivec, 6-cylinder, 24-Valve, DOHC, fixed inlet port, dry-sump oil system
FUEL SYSTEM : ECI multi-point fuel injection
DISPLACEMENT : 3997cc
MAXIMUM OUTPUT : 188kw (255 ps) / 4500 rpm, 412Nm (42.0 kgfm) / 3500rpm
TRANSMISSION : 5-speed Ricardo-type, sequential shift gearbox and mechanical gear selection
4WD SYSTEM : full time, mechanical centre diff lock
FRONT DIFF : Xtrac self-locking differential
REAR DIFF : Xtrac self-locking differential
SUSPENSION
FRONT : Independent, double wishbones, coil spring and anti-roll bars
REAR : Independent, double wishbones, coil spring and anti-roll bars
DAMPERS : Fully-adjustable BOS dampers (two per wheel) and anti-roll bar system
STEERING : Power-assisted rack and pinion
WHEEL STROKE : 250 mm front and rear
BRAKES : Front and rear: Ventilated Brembo discs with 6-piston Brembo calipers
WHEELS : OZ Racing aluminium 7×16
TYRES : BF Goodrich 235/85 – 16
MINIMUM WEIGHT : 1825 kg
OTHERS : Aeronautic steel multi-tubular frame, Honeycomb body, floor and carbon fiber body
FUEL TANK CAPACITY : 500 litres (competition range around 800 kms – 400 kgs extra weight with full tank)
Driver Profiles and Comments
Hiroshi Masuoka (Japan)
Born March 13, 1960, in Saitama Prefecture, Japan. Japan's leading cross-country driver made his international debut on the Pharaohs Rally in 1985. He has been active on the Dakar Rally since 1987. The 2008 event marks his 21st participation in the world's most difficult cross-country competition. He won the Modified Road Car class in 1990 and 1994, which was followed by the greater success in 2002 when he won outright. Hiroshi repeated his success the following year and was 2nd overall in 2004, but failed to finish in 2005 and 2006. He is now more determined than ever to add a third win to his record after finishing 5th in the 2007 event despite a series of punctures and clutch problems. For the third consecutive year, his co-driver is Pascal Maimon (France) year who was with Masuoka when he clinched his first win in 2002.
"My 21st Dakar Rally is approaching. I am more than satisfied with the new car and the five-speed gearbox after completing an extensive test program in Morocco and at other venues. The gear ratios have been revised and fine-tuned. Modifications have also been made to the suspension setup and I feel that its ability to take rough terrain in its stride has been significantly upgraded compared with the previous car."
"My personal target is to bring Mitsubishi its eighth consecutive win and its 13th win in total. After all, it's time for me to win again, isn't it? The competition will be very close and several drivers could win. It won't be easy for us to defend our title, but the 2008 route places the accent on dunes covered in deep sand, and that could play into the hands of the Pajero/Montero Evolution which is also excellent over rough terrain. I am looking forward to the challenge because driving over dunes is what I prefer."
Stéphane Peterhansel (France)
Born August 6, 1965, in France. Seen by many as 'Mister' Dakar, Stéphane Peterhansel stands out as the event's most successful biker with a score of six wins to his name from eight starts between 1991 and 1998. In 1999, he switched to four wheels and joined the Mitsubishi squad in the summer of 2002 before claiming his first win in the car category with the Pajero/Montero Evolution two years later. He is one of only two people to have won both the bike and car categories, the other being Hubert Auriol who was the first person to achieve that feat. The following year saw Peterhansel take his second win in a row and, after finishing 4th in 2006, the Frenchman took his third outright win in 2007. His co-driver is Jean-Paul Cottret (France), his long-serving right-hand man.
"The revised technical regulations will handicap the Pajero/Montero Evolution. We focused our efforts on further developing the car and the result of that work is improved handling and comfort. My win in the United Arab Emirates was a big boost to the team since the Desert Challenge is seen a full-scale dress rehearsal for the Dakar. It won't be easy to extend the team's run of consecutive wins but I will be co-driven by Jean-Paul Cottret, with whom I won in 2007, I will be driving a car that has a proven track record and will be competing with a highly experienced team. That combination could well give me an advantage and, along with our team-mates, we intend to give it our very best shot."
Luc Alphand (France)
Born August 6, 1965*, in France. Alphand is a famous figure especially in Europe because he was the 1997 World Cup Alpine Ski Champion. Today, he has traded his skis for a successful career in motor sport, including participations with his own team in the Le Mans 24 Hours and with Mitsubishi in cross-country rallies, including the Dakar. He first contested the celebrated African marathon in 1998 and revealed his potential as a rally driver by winning the non-modified Road Car class the following year. He joined Mitsubishi in the summer of 2004 and won the Dakar at only second attempt with full factory backing in 2006 before finishing runner-up again in 2007. Alphand is more than ready to win the Dakar again in 2008 along with Gilles Picard (France) who has been his co-driver since 2006.
"Everyone is saying that the 2008 event will be tougher and more demanding than ever. There will be even greater emphasis on reliability but we have no intention of just sitting back and waiting for our rivals to hit trouble. It will be important for us to be up amongst the front-runners through Morocco before reaching the Mauritanian marathon stages which promise to be the most difficult part of the rally. The team's fitness program means we are in good shape and it's a pleasure to work with our team mates."
Joan 'Nani' Roma (Spain)
Born February 17, 1972, in Spain. Like Peterhansel, Roma won the Dakar on two wheels before switching to the car category. After winning the European Enduro Championship in 1994, he contested the Dakar for the first time in 1996. Prior to being spotted by Mitsubishi in the summer of 2006, he won the bike category on the 2004 Dakar. His first drive for the team saw him finish 3rd overall, while his first attempt at the Dakar with Mitsubishi came in 2005 when he finished 6th overall before finishing on the podium (3rd) in 2006. His highly-experienced co-driver Henri Magne (France), who played an important role in navigating him across the desert reaches of northwest Africa, was tragically killed in an accident during the 2006 Rallye du Maroc, fourth round of the FIA Cross-country World Cup. For the 2007 Dakar, Nani had a new co-driver in the person of Lucas Cruz Senra (Spain) but the pair could finish no higher than 13th due to accidents. They now know each other much better and have set their sights considerably higher this time round.
"I still need more experience to win the Dakar, but I'm very pleased to have Lucas with me. We speak the same language and I can rely on him 100%. We form a strong team and we will do our best. Last year, the other co-drivers helped him a lot and that is one of the many reasons why the MMC team is so strong."
A total of 570 entries have been received for the 30th anniversary Dakar, including 245 bikes, 20 buggies, 205 cars and 100 trucks. This makes it the second biggest field since the 1988 Dakar (602 entries) and is sure to give this year's landmark event a truly festive feel. Scrutineering and documentation take place in the Portuguese capital, Lisbon, on Wednesday January 3 and Thursday January 4, 2008, before the official start on Saturday January 5. Participants are scheduled to arrive in Rabat, Morocco, before sunrise on Tuesday January 7 and will then begin their traverse of northwest Africa via Morocco and Mauritania. Survivors are due to reach the finish by the stunning Lac Rose, near the Senegal capital Dakar, on Sunday January 20. The total length of the 15-day marathon is 9,273km, including 5,736km of competitive stages which marks a significant increase over the 2007 event which totaled 4,300km following last-minute route changes. The 2008 rally will not visit the Republic of Mali where security is poor, leaving a greater competitive emphasis on Mauritania. The longer total distance means competitors will spend more time in their cars each day, as well as longer sand sections which promise to make the 2008 Dakar a tougher and more challenging prospect than ever. Competitors will enjoy a day of rest on Thursday January 13 in Nouakchott, the capital of Mauritania.
After completing two days of special stages in Portugal, crews will tackle the first African competitive section which will use gravel tracks through the Atlas Mountains in Morocco. The first taste of dunes comes the following day as the terrain evolves rapidly from hard-packed dirt to sand. On arrival in Mauritania, crews will face a series of high-speed desert stages which promise to be the major battlefield of the 2008 event. The terrain will vary from soft sand and dunes to rough desert and camel grass which always represents a special challenge for competitors and machines alike. The traverse of Mauritania also includes two marathon stages near Atar (the first of two visits) and Tidjikja which will call for impeccable reliability and durability since, on these two occasions, outside servicing is not permitted in the overnight bivouac camps.
Outlander Team Support Car
Team Repsol Mitsubishi Ralliart will deploy 13 support vehicles comprised of seven trucks, five Pajero/Monteros and one Outlander which is a newcomer to the support fleet. Based on the European version and powered by a 2.2-liter in-line four-cylinder turbocharged diesel engine mated to a six-speed manual gearbox, the desert version of this car is equipped with additional safety items (roll cage, bucket seats) and special rally features, such as tuned suspension, heavy-duty tires and various protective guards. No hardware-related modifications have been made to the engine, transmission or electronically-controlled 4WD system. Only fine-tuning changes and adjustments have been made to optimize certain settings for the difficult task in hand. The additional fuel tank is required for the longer competitive sections. As was the case with the Delica D:5 used during the 2007 event, the Outlander will be driven by Ralliart contracted driver Katsuhiko Taguchi who will be accompanied by engineers and who will carry a wide range of service tools and spare parts.
Satellite Teams To Join the Major Effort Spearheaded by Team Repsol Mitsubishi Ralliart
The MMC-backed Team Mitsubishi Ralliart China and Team Mitsubishi Ralliart Thailand operations will once again contest the Dakar Rally. Liu Bin (China) will drive the Chinese team's Pajero/Montero (Modified Road Car class; 3.2-liter diesel). His last attempt was rewarded with 47th place overall and 2nd place in the Rookie category. The team's Honorary Director is none other than film star Jackie Chan. The Thai team will run a Triton (Modified Road Car class; 3.2-liter diesel) for Mana Pornsirichad (Thailand). This will be the third start for Mana who finished this demanding event for the first time in 2007 (67th). The two teams jointly organized a test session in the United Arab Emirates under the supervision of Jean-Pierre Fontenay, winner of the 1998 Dakar in a Pajero/Montero. It is expected that this test program will be of significant benefit for their respective bids.
African Support Activities
Team Repsol Mitsubishi Ralliart will continue its support program for Africa in 2008. The squad will participate in the 'African Dakar' initiative pun by event organizers ASO (AmaurySport Organisation), as well as by France's SOS Sahel International. With the cooperation of Mitsubishi and other bodies, the operation is aimed at supplying the vast area of northwest Africa, which is seriously suffering from desertification, with plantation and anti-drought solutions, as well as helping to educate children to enhance their awareness of the importance of protecting the environment.
Mitsubishi's support program does not stop here, since its cooperation extends to work with the Dakar Solidario Foundation which runs a variety of charity activities. The team's title sponsor, Repsol, has supported the Foundation by supplying the people in the countries visited by the rally with medical equipment, medicine and other necessary supplies. They are delivered in the logistics vehicles carrying the administrative equipment and items. The Spanish oil giant also dispatches medical teams.