AUDI pulled the wraps off its big gun in performance vehicles with the R8 revealed at the 2006 Paris Motor Show, and set for release here in Q2 2007. Australian buyers can expect to see the car at dealers in the second quarter of 2007.  The car is also rumoured to be shown at the upcoming Australian International Motor Show however Audi Australia could not confirm.
The new R8 uses engineering and technology gains made from the five-time Le Mans winner.
[quicktime width="undefined" height="undefined"]http://media.audiworld.com/2006/R8-AudiWorld.mov[/quicktime]
The Audi R8 won the Le Mans 24 Hours five times – from 2000 to 2002 and in 2004 and 2005 – and on two occasions took the first three places.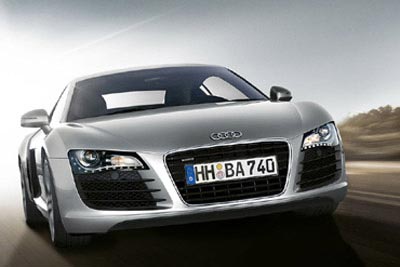 The new 308kW R8 has a mid-mounted 4.2L 420 bhp V8 FSI engine, quattro permanent four-wheel drive and Audi Space Frame aluminium body.
The same specs are expected to be available in Australia, however the V10 petrol variant currently available in the S6, and S8 is also expected to be available.
The 4.2L V8 direct injection in the R8 is the same new petrol engine in the Q7, A8 and RS4.

 The R8 will come in a six-speed manual or sequential shift auto, with a maximum 8250 rpm.
Around 430Nm of torque is available from 4500-6500 rpm.
Orders are expected to be open for the Audi R8 from 28 September 2006, with the first deliveries made in the second half of 2007.
Local pricing is yet to be announced but given the specs and build, the R8 is expected to be priced against the Porsche Carrera somewhere between $150,000 and $170,000.
The engine sits centrally just behind the cockpit and allows for a weight distribution of 44 percent to the front and 56 percent to the rear.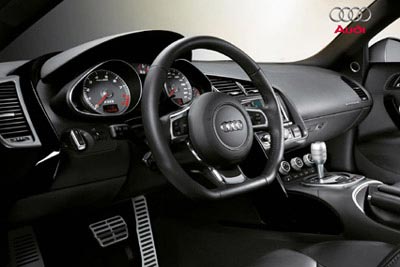 The car's body is compact and hunched in appearance, with the lines of the front end and roof sweeping back in a gentle arc over the two-seater.
The side view has a similar contour as the dynamic line above the wheel arches and the shoulder line come together at the front end, side and rear. The side air vent has a strong presence and showcase the huge 18" wheels (19" optional).
Inside the Audi R8 is pushed far forward like most mid-engined sports car, adding the look and feel of its race car heritage.
Just behind the driver and in front of the rear axle sits the V8 FSI engine, which can be seen through the large, shield-shaped rear window and from inside the car – arty.
The official audi R8 website is worth a visit to see the car's whole story, download wallpapers and ringtones, and even customise one to see how it looks with different paint, trim, and wheels.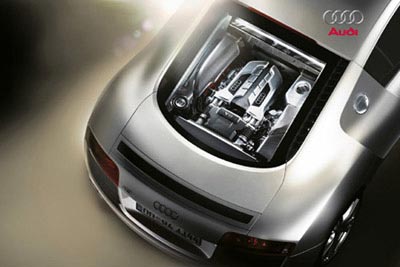 SPECS
• All-aluminum body
• 4.2L 420-horsepowermid-mounted V8
• 320 lb-ft peak torque from 4,500 to 6,000 RPM. 90% of max available from 3500 rpm and up
• 0-62 mph in 4.6 seconds
• Top speed of 187 mph
• All headlight functions available as LEDs
• Typically excellent Audi interior
• Automatically-extending rear spoiler
• Two transmissions available: 6-speed manual and Audi R Tronic sequential shift gearbox
• R Tronic can be shifted vis console stick or wheel-mounted paddles
• Quattro all-wheel-drive
• Available magnetic ride system
• 18″ wheels standard, 19″ optional
• First time the Audi rings are on the hood instead of the vehicle grille
• Clear engine cover
• 3 colours available for the side trim panel
[News Interactive]