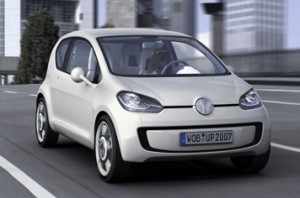 Volkswagen's new affordable small car range, code-named Up!, may have to be converted from rear-drive to front-drive, VW insiders have revealed.
The Up! concept was revealed last year with an ultra-compact twin- or three-cylinder engine mounted under its rear seat to drive the rear wheels. But after development difficulties, the Up! may have to be converted to a more conventional front-wheel-drive layout to achieve its original targets.
Early versions of the car had been hailed as 'the real new Beetle' because of the radical mechanical layout. The Up! is due on the market in 2010 and various versions will be built by at least three of the VW Group marques.
But the project is believed to have three key difficulties. First, the low-cost, mid-engined layout of the Up! is proving more costly to engineer than anticipated. It's apparently difficult to accommodate a radiator in the car's nose and trunk coolant through the car. Second, the Up!'s rearward weight bias has caused problems with cross-wind stability in early testing.
The combination of these two serious factors is threatening to force styling compromises the company might yet reject. However VW bosses insist these problems can be beaten, that the project is very much alive, and that one of its central objectives remains to put an affordable car on the market that looks and performs like the original concept.