This interesting concept car from Toyota is making its world debut in Paris, with a new interpretation of Toyota's "VIbrant Clarity" design theme. The Auris emphasizes interior comfort, style and convenience, wrapped in a cab-forward architecture with short front and rear overhangs.The C-segment Auris concept could herald the next generation of Toyota small cars – stay tuned.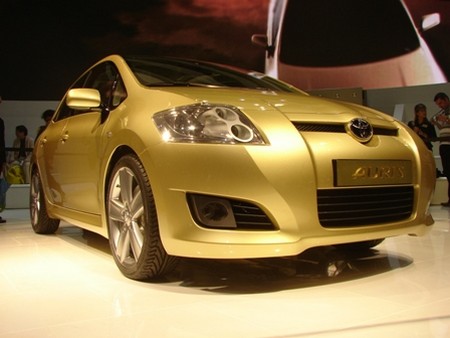 Designed from the inside out" is how Toyota describes its new Auris space concept, revealed for the first time at the Paris Motor Show. This world debut signals a new interpretation of the core Toyota design philosophy of Vibrant Clarity, combining a forward-looking and energetic appearance with a clear and rational approach to providing driver and passengers with a spacious and highly practical environment.
Wahei Hirai, Toyota Global Design Managing Officer explains: "The Auris space concept is tall and spacious. The high waistline, short overhangs and forward balance of the cabin architecture ensure it retains a sense of dynamism and agility, a quality we call perfect imbalance."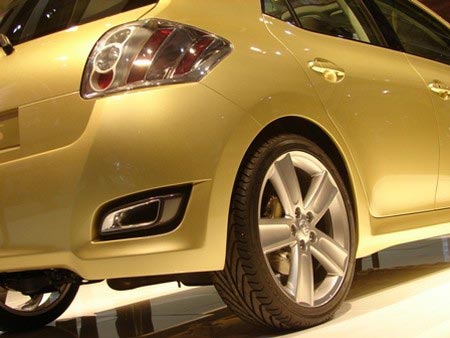 Auris has a high quality interior, featuring an innovative sculpted, bridged centre console that is both elegant and practical, bringing the gearlever and other controls up to the perfect ergonomic height. This leaves an open section in the lower part of the console that increases the sense of space around the driver and front seat passenger.
The inside-out concept can also be witnessed in the panoramic glass roof, the flat rear passenger floor and high window surfaces, all of which contribute to the overall sense of interior light and space. The exterior is characterised by a powerful front-end treatment with strong vertical lines, wide shoulders and short overhangs, with sports-styled 19-inch alloy wheels, freeform geometric lamps, prominent brake callipers and deep rear bumper with integrated chrome exhausts adding to the dynamic look.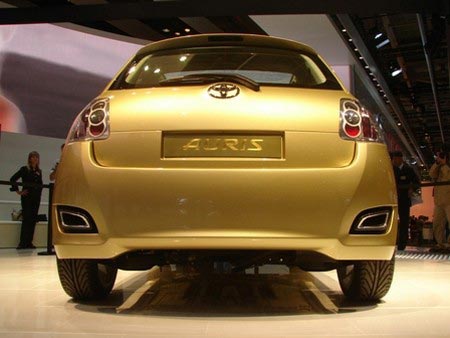 The striking gold exterior paint finish and interior piping reflect the car's name, aurum being the Latin word for gold. The result is a concept with which Toyota aims to reflect both the shift in values of customers in the C segment and its own optimistic brand attitude.