SUZUKI can finally claim a legitimate successor to the lamented Swift GTi.
The Swift Sport, unveiled to Australian media in Japan this week, may not carry the famous GTi badge (it no longer has rights to the name) but it has the firepower to outgun its predecessor. Â Â Â 
Powered by a high revving 1.6-litre twin cam four cylinder engine, the four-door hatch is quicker from 0 to 100km/h than GTi and runs rings around it when it comes to handling.
What it lacks is the raw edge that made the original GTi so much fun to drive, because like the off road Vitara it didn't have to bow to anyone.
In this critical area, we would have liked to have seen a larger, more powerful engine, but hey . . . the Liana started life with a 1.6 didn't it?
To create the engine, Suzuki engineers have increased the stroke and upped the compression of the donor 1.5-litre unit.
It gets a new block, new inlet and exhaust camshafts, new pistons and rings, connecting rods, crankshaft, larger capacity sports muffler, oil cooler, intake and exhaust manifolds and an electronic throttle body.
The result is a compact engine that delivers 92kW of power at 6800rpm and 148Nm of torque at 4800rpm.
This compares with the standard car's 74kW and 133Nm – a significant increase.
 
Swift Sport is due to go on sale at the end of September and looks set to build on the momentum of a car that has become a runaway success since launch in 2004.
To go with the extra power, the car's chassis has been strengthened with extra cross members, a close ratio, short throw five-speed manual box has been added, along with firmer damping and of course bigger, beefier brakes.
Cosmetic changes have also been made, with the addition of a deeper front air dam, black WRX-style side skirts and small rear wing plus a new rear bumper that incorporates twin exhaust outlets.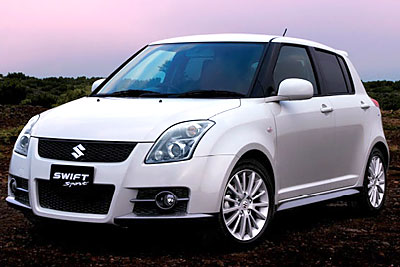 The car sits on 16 inch alloys with 195/50 series rubber, four-wheel anti-lock disc brakes and six airbags.
It looks hot, especially in bright yellow and Suzuki claims the Sport is good for 8.29 seconds for the dash from 0 to 100km/h, with a top speed of about 200km/h.
You pay a small penalty for this extra performance as the car takes 98 strength premium unleaded, but it still manages to sip the stuff at the same 7.5 litres/100km, with a 43-litre fuel tank.
We got to put the Swift Sport through its paces at Suzuki's proving ground at Hamamatsu. Weighing in at 1100kg, and with a power to weight ratio of 12.0kg to the kilowatt, it goes hard but lacks torque down low.
This is particularly evident from a standing start as well as when exiting corners, but wind it up and it's a ball to drive.
Our confidence in the Sport's handling grew with each lap of the proving ground as we pushed harder and harder through corners.
Pour it on and the car remains composed and manageable even at the extreme limits of adhesion.
The rasp from the twin exhausts sounds the part and inside there are some nice touches too, including sports seats (we're told they're Recaros), three-spoke leather stitched sports wheel, silver look gear knob and stainless steel pedals.
In terms of performance, the original GTi weighed just 750kg and, with a 74.3kW motor, boasted a power to weight of just 10.1kg/kW (0-100km/h took 8.6 seconds).
It wasn't forced to labour under the additional weight of the safety equipment that is imposed on modern vehicles.
Launched in 1986 the original GTi roared out of the gates, but was plagued by dreadful torque steer and could be a real handful in the wet.
In comparison, the Swift Sport is much more refined and desirable car.
At $23,990 it comes fully equipped with few direct competitors.
Suzuki benchmarked the car against the Mini Cooper and Citroen's C2, while Ford's Fiesta Zetec could also be considered a rival.
None provide the size, interior space and four-door utility of the Swift.
Standard equipment includes air conditioning, power ancillaries, steering wheel audio and fully featured trip computer.
But there's no spare wheel and no room for one either – just a re-inflation kit.
Whether the Swift Sport is indeed the successor to the GTi that Suzuki has been looking for remains to be seen.
The car has not been released in the United States, but like us, the Canadians have expressed interest in bigger engines too.
The Suzuki Sport certainly looks the goods and handles exceptionally well, but the extra $6000 could stretch the budget.
With no turbo, however, it remains within reach of P plate drivers.[CarsGuide]