The grid in Bahrain looked similar to last week in Malaysia. Two Ferraris and two McLarens, side-by-side, but which McLaren was up front was a surprise. Felipe Massa took his fifth career pole position, with McLaren's young superstar-in-the-making, Lewis Hamilton, swapping with teammate Fernando Alonso and taking second. Kimi Raikkonen grabbed third so the Ferraris would again line up behind each other on the grid, while Hamilton's teammate and reigning F1 champion Fernando Alonso was behind him, alongside Kimi. That was the highest qualifying spot for Hamilton so far and this youngster seems destined for a pole.
Nick Heidfeld and Robert Kubica made the third row an all BMW Sauber affair. Still early in the season, they seem like the team most likely to pressure the top two teams this year. Things so far have been dominated by McLaren and Ferrari, but BMW and even Renault, seem like they are right there. Giancarlo Fisichella managed to get his Renault into seventh ahead of Mark Webber (Red Bull), with Jarno Trulli (Toyota), and Nico Rosberg (Williams) rounding out the top ten.
The stage was set. Would Massa hold on or would the more seasoned drivers behind him force him into an error and sweep past? Would Hamilton move up another step on the podium to become the youngest-ever British winner of a Grand Prix? Ferrari and McLaren, head-to-head, with a strong BMW Sauber duo ready to pounce if any of the front four got too aggressive and bungled the start. Follow the jump to see how it went.
Hamilton was a bit of a surprise for Massa last week, so it came as no surprise the young Brit was still on Felipe's mind today. Massa's statements before the start gave a good indication that he didn't want last week's result duplicated: "Our strategy for the first corner? Be more aggressive! We gave him [Hamilton] the space last weekend; now we know what he can do we don't give the space any more!" And that was the way it went into turn one, very aggressive. But it was relatively clean and the front row order stood. Row two, however, was a different story. The order got inverted, with Alonso charging hard and forcing himself past Kimi after the first complex of turns and a lot of wheel-to-wheel action.
The safety car was deployed soon after as Scott Speed and Jenson Button didn't get through so cleanly. Amazingly, the two got out and shook hands, acknowledging it was just a racing incident. Speed seems to have more than his fair share of these "incidents" on his resume. After everything got cleaned up and the safety car disappeared, it was more of the same as Hamilton again pressured Massa but fell in behind eventually. Alonso and Raikkonen also had another go at it with Fernando again taking third. Heikki Kovalainen seemed to do the best with the restart and moved up several spots. Nico Rosberg, on the other hand, seemed to stutter a bit and fell back a few places.
Although little changed, the action at each position was pretty exciting. Hamilton stayed close enough to Massa to keep his mirrors filled and Kimmi actually slid off a bit several times trying to get past Alonso. That allowed Heidfeld to stay close behind as well. The Toyota-powered machines of Trulli, Wurz and Rosberg had some thrilling laps just outside the points, but all eyes were up front. The leaders kept swapping fastest laps, and it was evident that pit performance would be crucial. Speculation had been that perhaps Ferrari was running a bit lighter than McLaren on fuel to make sure they stayed ahead into turn one, but that proved unfounded.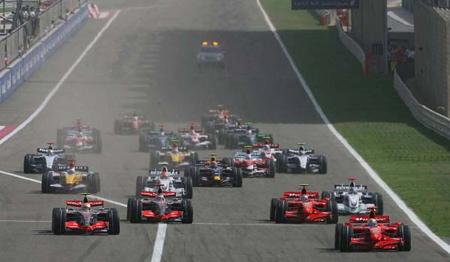 Hamilton ended up being the first one in, followed by Massa, Alonso, Raikkonen and Heidfeld. Out of the pits, Kimmi found himself ahead of Alonso. Coulthard seemed like a man on a mission as he kept knocking off competitors on his way towards the points. Heidfeld had been pressuring Alonso for a while and thanks to some Spyker interference and a brilliant move, gets past the World Champion to move into fourth. The McLarens took on a lot of fuel at the first stop and for some reason seemed to be struggling in the middle laps. Massa had put about ten seconds between him and Hamilton. And then a string of failures hit the field, sometimes spectacularly.
Liuzzi, Coulthard, Sato (KABOOM), and Webber all retired. With less than 18 laps to go, the leaders were ready for their final stops. Massa was first in, followed by teammate Raikkonen, Heidfeld, Alonso, and finally Hamilton. After the second stop, it's Massa, Hamilton, Raikkonen, Heidfeld and Alonso, but the McLarens were back in top form. Hamilton was pulling away from Kimmi but didn't look capable of catching Massa. Alonso was right on Heidfeld, but wasn't able to get past him. And then Davidson's engine let go. Stupidly, he stayed on line for almost half a lap, laying down oil and shrapnel. Thankfully, it didn't seem to catch anybody unawares.
Felipe Massa holds on for another win, with the hard charging Lewis Hamilton just behind. Unable to make it 3-2-1 in his first three F1 starts, he is still the only driver in Championship history to finish on the podium in his first three starts. Amazing talent. Raikkonen holds onto third, Heidfeld is fourth and Alonso fifth. Kubica (BMW), Trulli (Toyota), Fisichella (Renault), Kovalainen (Renault), and Rosberg (Williams) round out the top ten. So after three races, McLaren leads Ferrari in the Constructor's Championship 44 – 39, while the Driver's race has Hamilton, Raikkonen and Alonso tied at the top with 22 apiece. Massa is next with 17, followed by Heidfeld with 15.
Results:
Massa Ferrari 57 LAPS
Hamilton McLaren +2.3 secs
Raikkonen Ferrari +10.8 secs
Heidfeld BMW +13.8 secs
Alonso McLaren +14.4 secs
Kubica BMW +45.5 secs
Trulli Toyota +81.3 secs
Fisichella Renault +81.7 secs
Kovalainen Renault +89.4 secs
Rosberg Williams +89.9 secs
Wurz Williams +1 Lap
Schumacher Toyota +1 Lap
Barrichello Honda +1 Lap
Albers Spyker +2 Lap
Sutil Spyker +4 Lap
Davidson Super Aguri OUT (Lap 52 – Engine)
Webber Red Bull OUT (Lap 42 – Mechanical)
Sato Super Aguri OUT (Lap 35 – Engine)
Coulthard Red Bull OUT (Lap 37 – Mechanical)
Liuzzi Toro Rosso OUT (Lap 28 – Mechanical)
Button Honda OUT (Lap 1 – Collision)
Speed Toro Rosso OUT (Lap 1 – Collision)