Ahhh, 80s week. We've already seen one of our favorite Germans and a blocky Japanese classic. Today, we take a virtual road trip up to New Hampshire for a little Scandinavian treat. Patrick's 1987 Saab 900 Convertible was bought four years ago for a reasonable-sounding $1,800. At the time, he says, the car was junkyard material. Luckily for the ragtop Saab, Patrick (a.k.a. Flickr user smackdownsaab), was prepared to give it the TLC and financial support needed to bring it up to daily-driver standards. We'd say that things worked out quite well.
First off, he replaced the convertible top. Hext, he set about giving the car a thorough makeover, adding the always appealing SPG skirts, bumper extensions, and wheel arches. The rear axles and front suspension were swapped for newer versions that allowed him to install the improved brake system found on later models. An added side benefit of the latter is that it also allowed him to install the 3-spoke aero-look Saab wheels to match the rest of the SPG appearance package. We also like the "Viggen" badging he added above the side markers. New springs drop the whole affair an inch and a half.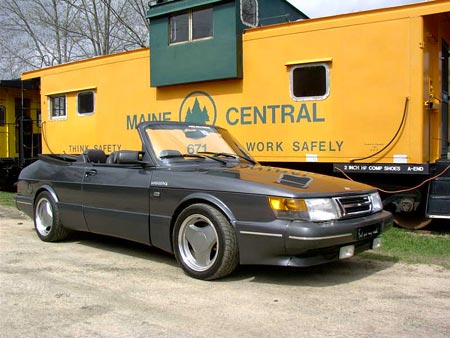 According to Patrick, the car's paint (save for the bumpers, which he says were resprayed) is original and mostly devoid of rust. Looking at the photos, it's hard to imagine that this Saab was ever junker material. Nice job, Patrick. You've scored yourself today's Reader Ride of the Day.
We're still on the prowl for more rides of the 80s, so pause that Rick Springfield tape for a minute and submit your photos to our Flickr account by following the directions after the jump. {autoBlog}