Next up in the continuing AudiWorld "Reader's Rides" feature is something you don't see everyday – if ever. This Papaya Orange Q7 proves that special order colors are only a matter of money and patience. As a reminder to readers, we are always looking for Audis that include either very clean and well-done mods or extremely unique enhancements.
Owner Information
Name: Henry
AudiWorld username: papaya Q7
Location: Vancouver, BC Canada
Occupation: OB/GYN
Vehicle Information
Year: 2007
Make: Audi
Model: Q7 4.2 Premium
Mileage: 1500 km
Color: Papaya Orange
Engine: 4.2 FSI
Modifications
Engine Mods: None
Exhaust Mods: None
Suspension Mods: None
Brake Mods: None
Wheels & Tires: 21″ S-line 7 doube-spoke
Exterior Mods: Aluminum painted lower rear center of rear bumper
Interior Mods: Recaro Sport Child seats (2)
Audio / Video Mods: AMI on order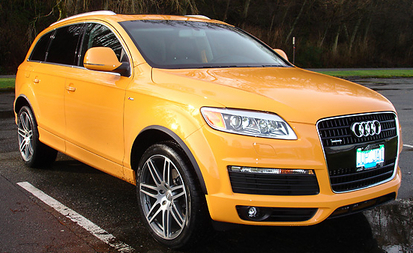 Featured Car Questions
When and where did you purchase this car?
The car was purchased from Capilano Audi. I placed the custom order in August 2006.
Why did you choose this car as the basis of your project?
I love current Audi packaging, which in my opinion only compares with Porsche and Lexus in the market right now.
Was there anything unique about the car before you starting modifying it?
Well, obviously the color is the most unique feature, as well as the 21″ S-line package. I have not seen another in Vancouver yet!
Did you consider any other brands, and what led you to Audi?
I also looked at the BMW X5.
What was your objective with this project?
A fun ride to fit my family while remaining sporty and unique. The vehicle is highly visible for road safety while driving with the kids on board.
If you had to do it all over again what would you change?
Somehow get SPORT SEATS. I have had them in all my previous cars and the regular seats do not provide the same grip. The leather seems a little too slippery as well. I also wish I could have gotten AMI from the factory, but I missed it by a few months.
Are you finished – what's next?
I am researching DVD video system for the kids.
Is this your daily driver, and if not what else is in your garage?
Yes it is my daily driver. I also have a Mini Cooper S, Porsche Cayenne and an Audi R8 on order, although I am tired of wiating and uncertain when it would be available. I will probably go 997 or Cayman instead.
What is your favorite thing about this car?
S-line package looks and the alcantara… also love the adaptive suspension and the Bluetooth. The kids really like the panorama.
As modified, what makes your car unique?
Papaya, alcantara and aluminum, of course.
[Audi World]