Beyond its unique livery, the GT3 RS is distinguished from the GT3 on which it's based by broader rear flanks and reduced weight, further distilling the driving experience to that of a racing car, but one which meets all the requirements for street-legal sports cars. This purist's variant of the 911 GT3—a model particularly well-suited for track outings—will arrive in time for spring 2007.
Not since the venerable 1973 911 Carrera RS has such a production Porsche been available in this market. The Carrera RS was a special, lightweight 911 produced to homologate the vehicle for racing. That tradition continues with the new 911 GT3 RS, which is modified to serve as the homologation model for a range of worldwide racing series.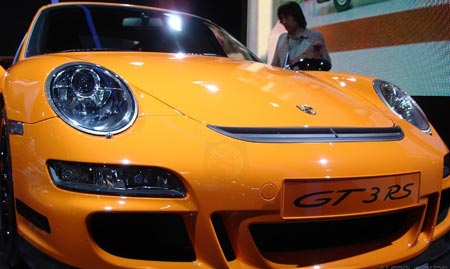 The RS's immediate predecessors have garnered more than 50 victories and five championships in the American Le Mans Series, as well as overall victory at the Rolex 24 at Daytona.
The modifications made to the 911 GT3 RS begin with the bodywork. Compared to the GT3, the rear of the RS is 44mm wider, as it is based on the fuller-bodied 911 Carrera 4 models. The muscular-looking rear end conceals a wider track that not only improves directional stability, but also increases the potential for lateral grip on this two-seat coupe.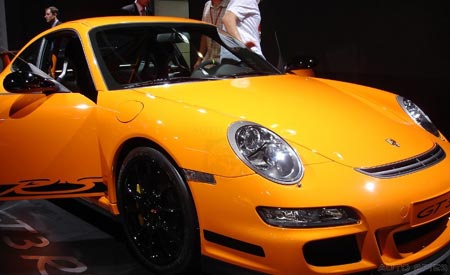 Despite its specialized body, the GT3 RS is lighter than the GT3. This weight-saving was achieved through the use of—among other solutions—a carbon fiber composite for the front lid, and an adjustable carbon fiber wing. Modifications on the GT3 RS geared specifically toward race-regulations include the rear wheel carriers, split rear-suspension wishbones, and the carbon-fiber components.
Though peak output of the 911 GT3's 3.6-liter flat-Six remains the same—415 horsepower at 7,600 rpm, on the way to an impressive 8400 rpm redline—the quick-revving nature of the highly-tuned Boxer mill is enhanced even further in the GT3 RS with a unique, single-mass flywheel.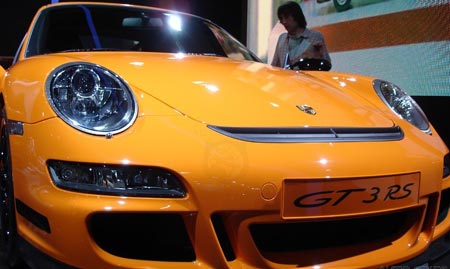 The new 911 GT3 RS will be available in two standard finishes: Black or Arctic Silver metallic. As an option, the GT3 can also be decked out in brilliant orange or green paintwork. All vehicle insignia and the wheels themselves are styled in orange or black to contrast with the body color. The 911 GT3 RS's interior lives up to the vehicle's race-derived styling. Internal trim is black, with the roof lining, steering wheel and gear stick trimmed in high-quality Alcantara leather. [autospies]