That three-pointed star on the Concept Ocean Drive convertible may be a bad omen for DaimlerChrysler's underachieving Maybach brand.  The S-class-based Mercedes concept, to be shown at the Detroit auto show, has everything that would warrant a double-M Maybach badge. There are four doors, a big V-12 engine and lots of wood and leather.  For Mercedes, the Ocean Drive is a halo car. The brand has taken a beating over quality and, potentially, a less-exclusive image. But it's nearly five years since Maybach's U.S. unveiling, with no new models in sight.
Mercedes spokesman Rob Moran said the Ocean Drive was never conceived to be a Maybach. "The Maybach lineup continues on with the offering of four models for 2007, including the 57, 57 S, 62 and new 62 S," he said in a written statement.
Mercedes resurrected the Maybach brand in 2002, part of a flood of upscale products that also included the Rolls-Royce Phantom and Bentley Continental. But it never came close to achieving the expected sales of 500 Maybach units a year in the United States. Through November, U.S. Maybach sales this year were an estimated 109 units, compared with 152 for all of 2005 and 244 in 2004.
Last week Mercedes released the first photos of the Concept Ocean Drive, based on the V-12 S600. Unique features include a large upright radiator grille; LED headlamps and taillights; and two-tone paint. Technical highlights include a neck-level heating system. Vents in all four headrests circulate warm air around occupants' necks and heads to allow top-down driving in colder months.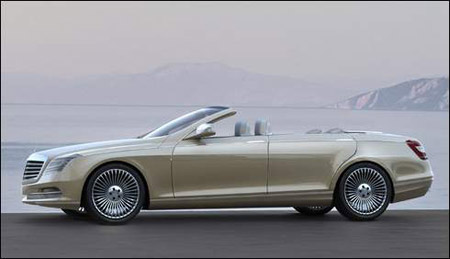 Mercedes says it doesn't plan to produce the Ocean Drive. But the concept is seen as a clue to how DaimlerChrysler might compete with Volkswagen AG's Bentley brand. If an S600-based convertible were built – and assuming a price above today's most expensive S class, the S65 AMG sedan – it probably would come in at above $200,000. [auto week]