While everyone was lining up in orderly rows to watch the official unveiling of the Sentra SE-R and Altima coupe at Nissan's LA press conference, we snapped a few pics of a pre-production model of the 2007 350Z. Although the exterior has gotten a few subtle tweaks that only those of us in the Z-car enthusiast camp would notice, they deserve a brief mention. While the headlamps and taillights have been revised with new housings, the most striking change was the addition of a power dome that eschews the two creases that formerly flanked both sides hood.
So what could possibly justify such a change? Why, more power, naturally. Nissan's venerable VQ35, 3.5-liter V6 is now producing 306 HP, which doesn't seem like a substantial increase over the last model's 300 HP, until you take into account that new output calculations have recently been adopted. As it turns out the same engine that's fitted to the new G35 and the 350Z is making between 15 and 20 HP more than the outgoing 2006 models, which should easily be felt by even the numbest backside.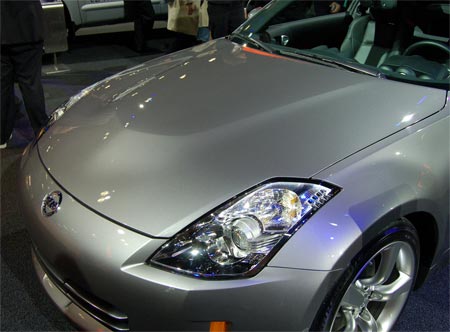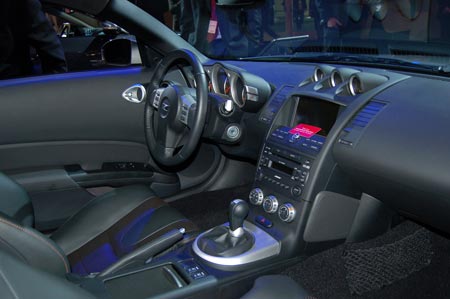 The increase in power is mainly due to revisions made to the variable valve timing on the exhaust side of the valvetrain, allowing the new engine to rev past the 7k redline of former models, all the way up to a newly set 7,500 RPM.
This new engine will also find a home in the new Altima and Maxima, as well as the Altima coupe, which should make Nissan's new entry-level two-door one of the great performance bargains of 2007.
More pics of the 350Z's new exterior bits and interior are posted after the jump.
[Source: Nissan and Kicking Tires]