We've begged for Ford to begin selling some of its perceived-to-be excellent international wares in the U.S. and today we've learned our wait is over. Motor Trend is reporting that the next generation Ford Fiesta will be sold in the U.S. by late 2008, about a year after it's introduced in Europe. The new Ford Fiesta is based on the same platform as the Mazda2 that was officially introduced at the Geneva Motor Show in March. We lamented at the time neither the Mazda or its Ford counterpart would ever be sold on U.S. shores, but apparently Ford had decided before the Geneva show that the Fiesta would be bound for the U.S.
The Ford Fiesta is a B-segment vehicle that will slot neatly below the current Ford Focus. Though we don't know exactly what the next-gen model will look like, MT is reporting that Ford of Europe's "kinetic" design language will not be tinkered with much during its transfer. That means we're not likely to see the Fiesta wearing a three-bar chrome grille, which is hardly tragic considering Ford of Europe's "kinetic" cars are equally if not much better looking than their U.S. counterparts.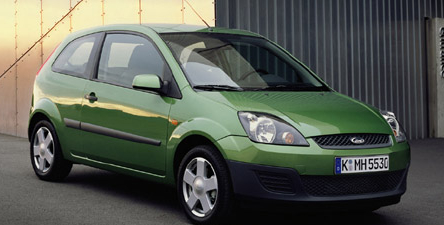 Though the profit potential of selling the Fiesta in the U.S. is likely very weak, the arrival of a small car fills a gaping hole in Ford's lineup. The Honda Fit, Toyota Yaris, Chevy Aveo and more are competing fiercely right now in our domestic small car market. To say the arrival of a European-bred Ford Fiesta will be interesting is an understatement, to say the least.
[Source: Motor Trend]