Lexus engineers don't just look to the future, they create it. Innovative leadership in luxury, technology, performance and styling is the backbone of the Lexus philosophy. Future Lexus vehicles embody The Passionate Pursuit of Perfection by challenging imagination through innovation. Welcome to the intelligent evolution of automobiles.
The company jet is in for some serious competition. Slip into the cockpit of the Lexus LF-X (code-named the HPX), and you're instantly surrounded with driver-oriented instrumentation, innovative technology and unsurpassed luxury. The stealth HPX has the generous interior of a luxury utility vehicle in a futuristically styled package.
Many try to predict what the future will hold. At Lexus, we've already taken one step toward the future of luxury vehicles. Our LF-S concept car embodies the next evolutionary step in our design philosophy: L-Finesse. The goal of L-Finesse is to build a luxury sedan that's designed around you.
The sleek lines skillfully combine dynamism and elegance, while surrounding a comfortable, driver-friendly interior. Innovations include a transparent roof that incorporates security illumination. This groundbreaking luxury sedan also features a V8 gasoline engine and high-output electric motors for a hybrid 4WD. The LF-S is where luxury is going. And that's a future we can all get excited about.
The LF-C luxury sports coupe concept gives bold stylistic hints into the future of Lexus. From the outside, the LF-C strikes an aggressive pose with its broad stance and short overhangs, while the vehicle's interior echoes performance with drive-by-wire steering and Formula-One-inspired styling. Behind this gutsy coupe is of course, a high-output, front-mounted V8 engine with a six-speed sequential automatic transmission.
Taking the sport concept beyond the traditional European formula, the LF-C adds a new element of surprise; at the touch of a button the unique hardtop design transforms the vehicle from a coupe, to a convertible, to a targa or wind-swept speedster-all depending on the driver's mood. The four-position, power retractable hardtop stows neatly into the trunk through a surprisingly minimal rear-deck opening. The LF-C seamlessly blends the road, air and sun into a dynamic statement of futuristic performance and luxury.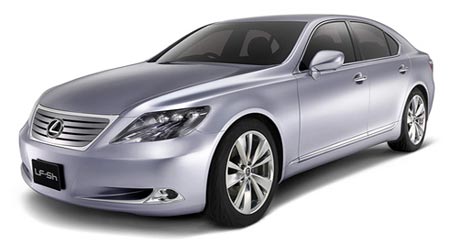 The latest concept vehicle based on the L-Finesse design philosophy is the most intriguing yet: The LF-A. Incorporating the distinctly understated elegance of the new Lexus styling direction, the LF-A is the next evolution of exotic sports cars.
As a reflection of the vehicle's Formula One bloodline, the sheer, fluid surfaces with their striking lines and curves were sculpted to have your pulse racing before you've even opened the door. Once inside, the unique two-seat interior is equally impressive with its futuristic minimalist approach. Pushing the boundaries of design and performance, the LF-A is an awe-inspiring glimpse into the future.
Perfection is a moving target, advancing as technology reveals new possibilities. With the Lexus LF-Sh concept vehicle, our engineers and designers apply innovation as never before, blending the environmental advantages of a V8 hybrid system with the effortless performance of all-wheel drive and a quantum leap forward in safety. A vision of luxury that recognizes the necessity of conservation, the LF-Sh demonstrates that the future of the automobile is always worth the pursuit. [Lexus]