The new hybrid from Lexus is a smooth ride, but it's a hefty price to pay to feel eco-friendly with good diesels around. Remember Betamax video recorders, those lumbering, top-loading titans of terminal technology? They went from old hat to dead format in the blink of an eye. Now picture the Lexus GS450h, a car that may just be the equivalent of a $121,900 Betamax recorder.
Well, that's not entirely fair, because the Lexus will still provide transport and be able to burn reasonably common fuel (albeit of the premium kind), even if Toyota's hybrid drive petrol-electric engine system doesn't turn out to be the dominant technology of the fuel-frugality years we're entering.
And while the GS450h is certainly big and heavy, it's not quite as ugly as a Betamax. In fact, the car passed the servo test with honours.
One smitten BP worker even described it as beautiful, despite what I argued with him were portly, American proportions and a hunched back.
Looks aside, the appeal of this Lexus is billboard-simple to define: "V8 performance with four-cylinder economy".
Sure enough, during a week of varied driving, the GS averaged between an impressive 8.5 and a reasonable 10.1 litres per 100km.
But its range, off a 65-litre tank of pricey PULP, was just over 500km.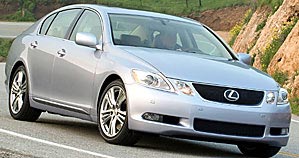 Compare this to the diesel option. Our recent, long-term BMW 530d (packing an in-line, six-cylinder turbo diesel) returned a best figure of 5.7 litres per100km, with a range of 935km off a single tank of farmer's fuel. It was also far more lively to drive, handled in a whole different class — and had a boot.
The Lexus looks like it has one, but open the lid and you realise it's an optical illusion. Those big ol' batteries under the rear seat take up all the space.
And you can have the Bavarian brute for just $114,500. As far as performance goes, the Lexus may be quick — with a claimed zero-to-100km/h time under six seconds — but doesn't feel like it.
The hybrid uses a dual-VVT-i direct-injection, 3.5-litre V6 that produces 216kW, mated to a 147kW permanent-magnet electric motor.
Its theoretical combined power output is 253kW. In terms of torque, the petrol motor hits its 368Nm peak at 4800rpm, while the electric one offers 275Nm from the get-go.
This means you not only have good off-the-line grunt, but handy overtaking thrust. Indeed, driven enthusiastically, and with all its sport settings switched on, the GS450h will get up and boogie.
But the main impression you get is that this is a heavy car rather than a dashing one.
That isn't surprising, as the Lexus weighs in on the wrong side of 1800kg. I may not be a rocket scientist, or even
a white-coat wearer from the Pond's Institute, but if you're trying to build an economical car of the future, making it lighter than a tank seems wise.
The sensation of weight counts against the GS450h on tight, rough roads, where it crashes and shakes, while understeering with its big nose and fighting a tail-shaking battle with the traction control at the rear end. Still, it's a classy-feeling piece of kit and it boasts an excellent interior.
The GS is far more at home on good surfaces, tackling smooth sweepers and freeway driving with consummate ease. And it's freakishly quiet.
Compared with the pudgy Prius, this hybrid is in a different league. I could actually live with it if I had to, whereas I'd choose public transport (or two feet and a heartbeat) over a Prius.
But with a massive Lexus price tag, and not such a large range, you have to wonder who's going to want to buy it off you in a few years — particularly if hybrid technology goes Betamax on you.
And while I didn't set out to compare this car to the 5 Series diesel, I couldn't get it out of my mind that the latter is a more realistic, and more enjoyable, way to save on fuel while still looking rich and executorial.
The only argument left in the Lexus's favour is that it produces fewer emissions than any diesel or unleaded-fuel car.
Much like the Prius, or plastic surgery, people are being asked to spend a hell of a lot of money just to feel good about themselves. [The Sunday Telegraph]