The average life expectancy of a Hybrid car. The average number of years it would take to break even in fuel savings after investing in a premium diesel engine. And the average number of years that some industry experts expect the current crop of petrol engines with manual transmissions to last before emissions standards render them useless. 
A sobering statistic, yes, but for years manufacturers have been working around the problem of emissions, pollutants, and waste to produce not only a cleaner, eco-friendly car, but one that does not compromise on performance, luxury or price.
Though you would not know that this was the future of motoring from the empty green stands at this year's show.
The place to show off the future tech is, as always, the motor show stand, and this year saw an absence of previous shows' futuristic displays of alternative fuels.
However, there were some exciting models that are not simply concept, but close to, or in, production.
Saab brought out its BioPower models, which are specifically designed to run up to 90 per cent ethanol – though the car can run on petrol if an ethanol pump cannot be found.
Saab claims the use of ethanol as an environmentally friendly renewable fuel source with low emissions. And the green goodness produced by the crops such as sugar cane from which ethanol is produced can statistically counteract the resulting emissions from both the manufacturing process and the cars that use the fuel.
Ethanol's premium over petrol at the bowser is also supposedly negligible.
While BioPower production cars were on display, the show is stolen by the Aero X concept that floored the floor at Geneva.
Running a 2.8-litre, twin-turbocharged V6 engine and with a jet-fighter inspired design and cutaway cockpit (even the wheels look like propellors), the 100 per cent ethanol green machine claims no carbon emmissions while producing a supposed 4.9 second 0-100km/h sprint time (it is yet to be taken to a drag strip for official performance testing). Ethanol and performance?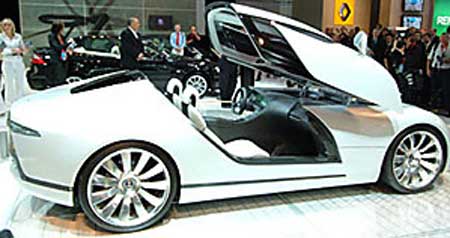 Theoretically, no problem…
But the biggest selling production alternative is still the petrol-electric hybrid.
Honda's Civic Hybrid and Toyota's Prius models have the market almost exclusively to themselves, but the luxury genre has entered the greenhouse with Lexus.
Toyota has lent its technology to sister company Lexus this year with the GS450h, and more recently, the big RX400h SUV which sits atop the Lexus stand.
This uses the combination of front and rear electric motors with a 3.3-litre V6 petrol engine to power the car.
When accelerating, the systems work together to give the car a combined 200kW, and capturing the energy usually wasted during deceleration and braking to recharge the electric motor. So no cords or power points necessary.
There is a catch – the estimated life of the battery in this type of hybrid is estimated at ten years.
As no hybrid has been around that long (the Prius first hit the market in 1997), and Toyota has never replaced a hybrid's battery as yet, we will have to wait until next year to see whether we have power, Y2K, or the start of expensive battery replacements.
And it will be next year that we slap eyes on Lexus' (and the worlds') first hybrid V8; the AWD LS600hL limo version of the petrol LS460 seen at this year's show.
Not to be outdone, BMW is scheduling a hydrogen duel-fuel V8 for 2008, which combines the company's stalwart 4.4-litre petrol engine with liquid hydrogen fuel cells.
It is being kept under wraps for the moment, and the fact that hydrogen would cost over $4 a litre here does not make for a clean start in Oz.
But while some of this cool tech was never going to make it to Sydney, the anticipated concept-come-production-car, the Peugeot 307CC Hybride diesel, was due to be revealed – and wasn't. Reliable technology? Hmmm.
The 307CC Hybride is a cool concept. The combination of a diesel engine with an electric motor in the cool convertible produces a teeny fuel consumption figure of just 3.7L/100km.
Unfortunately, like so many of the fantastic fuel alternative ideas and ideals, the tech is too expensive at present to make a production car viable, and its release is scheduled for 2010.
Not to mention the fact that it missed the plane to Sydney from the Paris show, and we had to settle for the new 207 and a half-naked woman on the stand instead (yes, we are mentioning her again – but that particular model was a literal show-stopper).
One thing is for sure: environmental concerns are weighing heavy on all car maker's strategic decisions for new models. But at this stage most are still not revealing their long term plans to deal with emissions and fuel efficiency.
Who knows what kind of alternative fuels and cars will be on the market in ten years time? And will the old Prius be running, or running out of battery?
Either way, it won't be long before we are all driving with a smug, earth-saving smile of some sort on our faces.