The new Chevy Malibu from GM was revealed today at Detroit Auto Show. The car has a nice interior and a smooth and lustrous appearance and will go against Camry and Accord. Seems that Chevrolet is focusing a lot of attention on the interior, using higher-quality materials and cleaner designs on the current model which gives a new level of refinement.
"The 2008 Malibu design is expressive and brings new proportions and a fresh perspective to the mid-size market," said Ed Peper, Chevrolet General Manager. "The new Malibu boasts a poised, wheels-at-the-corners stance with a longer hood and shorter deck appearance that conveys motion, agility and attitude."
The slotted grille and round taillamps are part of the new styling identity of Chevrolet, General Motors Corporation affirms.
Power comes from a 2.4-liter Ecotec four-cylinder engine in the base model, rated at 164 horsepower – 20 more than the previous model. A more powerful 3.6-liter V6 is also available, offering 252 horsepower (compared to the old 224 hp). Both will be offered with a six-speed automatic transmission.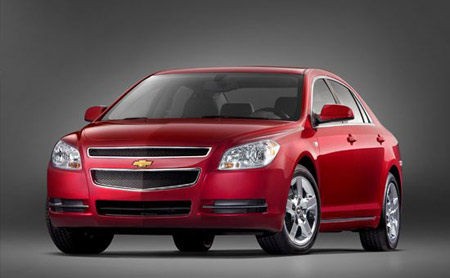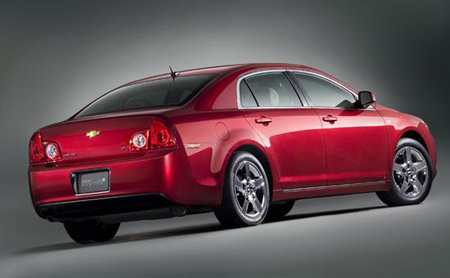 Safety equipment, including side and curtain airbags, is in full force on even the base LS version. Anti-lock brakes are standard across the board, along with tire pressure monitors, while stability control is an option on the Malibu's upper LT and LTZ trim levels.
The Malibu features a longer wheelbase that GM says delivers a smoother, more direct driving experience. Head-curtain side air bags are standard equipment on all models. Its dual-port grille represents the "new face of Chevrolet."
The first General Motors official photos of the 2008 Chevrolet Malibu, were revealed in premiere at Detroit Auto Show 2007.