GM, in what can only be termed as a smart move, has killed plans to redesign its minivan lineup for the 2009 model year. Like Ford, which axed the slow-selling Windstar, GM will euthanize it's rather awful minivan lineup, meaning that we won't have the Chevy Uplander, and Buick Terraza around to use as punchlines anymore. Instead, GM will focus on its new full-size crossovers that feature 3-row seating — the Saturn Outlook, GMC Acadia, and Buick Enclave.
Minivan sales for the General have dropped 50% since 2000, and the automaker has decided that its resources are better focused on other products. We agree. There's been no good reason to buy a GM minivan for a long time now, as competing products such as the Honda Odyssey, Toyota Sienna, and the Chrysler Group minivans have simply outclassed the completely lackluster GM offerings.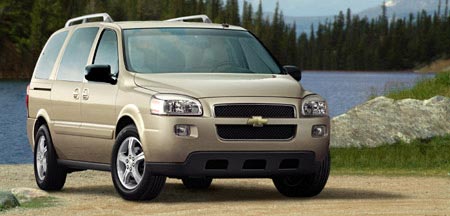 This is not good news for workers at GM's Spring Hill, TN plant, which was in line to build the now-scrapped new minivan. The plant has already lost Saturn's Ion (cancelled, GM will import the Astra to replace) and Vue (new version will be built in Mexico). According to the Detroit News, GM will likely assign an as-yet undetermined product to that facility in the future. In the article, Bob Lutz states that the automaker has reached no official decision to pull out of the minivan market entirely.
If that's code for taking a few years off to regroup, so be it. The last thing GM needs is a substandard new vehicle in a highly competitive segment dragging them down in the middle of their product renaissance. Get the new minivan right, then introduce it. [Detroit News]