Brabus may have beaten them to the punch by a few weeks, but you knew nothing was going to keep the engineers at Carlsson from getting their mitts on the big, bold Mercedes GL-Class SUV. The Carlsson CK50 begins life as a Euro-market GL 500 (currently, we only have the GL 450 here in the States). The base car is no slouch, dishing out some 388 horsepower, but we're talking Deutsch tuners here, and with these guys, horsepower numbers beginning with number "3" are routinely laughed at. As such, the CK50 kit turns up the juice with a healthy 435 horsepower and 440 lb-ft of torque.
Complementing the pumped-up engine is a Carlsson exhaust that gives the truck a meaner sound in addition to augmenting power and torque. The new mufflers are each tipped with double-oval outlets (not shown in the attached photos, btw).
They also drop the suspension 35mm with their C-Tronic lowering kit. C-Tronic automatically adjusts ride height based on road conditions and bestows improved handling and looks on the beefy GL. No tuner car is complete without an assortment of shiny new wheels, and the CK50 is no exception. Lightweight forged eleven-spoke 22″ wheels or polished 20-inchers are available. Inside, Carlsson will deck out the interior as much (or as little) as you like. New leather, wood, carbon fiber, and copious amounts of electronic gadgetry can be had to create a real custom look.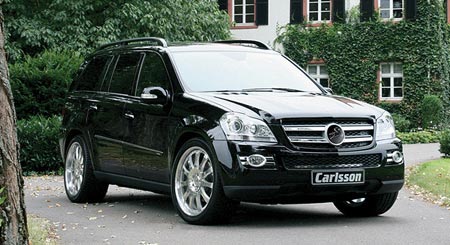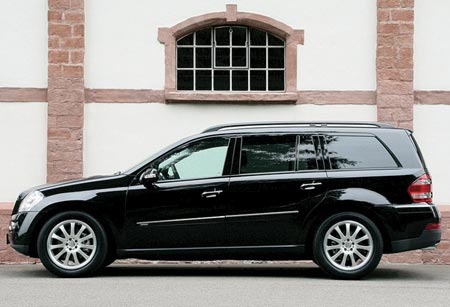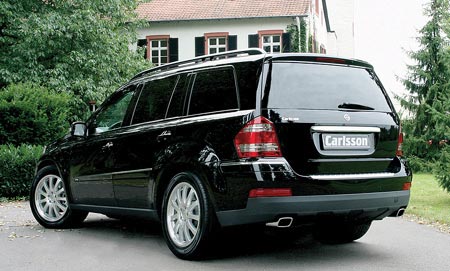 Naturally, added power and improved handling are nice things to have, but in the case of the Carlsson CK50, the suspension / wheel package really improves the SUV's aesthetics. Carlsson doesn't bother with any unnecessary bodywork, instead keeping the GL's stock, handsome lines intact. The lowered suspension and larger wheels give it a sportier, more wagon-like appearance in profile, which we like very much. Appropriate, given that most of these trucks are probably being used on-road as big station wagons anyway. The CK50 is visually understated, yet possesses enough power to go 0-62 in 6.1 seconds. Not a bad combo for a pretty large SUV. [Carlsson]