AudiWorld's Jason Teller dropped us a line to tell us some of the site's Arizona readers snagged new shots of the R8 mule as it continues its test regimen. The shot above is the first one we can recall seeing in which the car is shod with wheels other than the Gallardo rims it's been spotted wearing in just about every spy photo out there.
That's where it get's interesting.
You see, thanks to the reader reports, Jason and the AudiWorld staff determined that there are at least two R8 mules running around Arizona The one above was seen in Munds Park (near Flagstaff). Meanwhile, the one with the Lambo rims was spotted in Tempe — around 139 miles south. That particular car rolled up to the Tempe Mission Palms resort, where a valet tried to take the key from the test driver. The test driver explained that that wasn't going to happen and left the R8 out front while he ran in to grab a part, allowing an AudiWorld reader to let loose with his camera.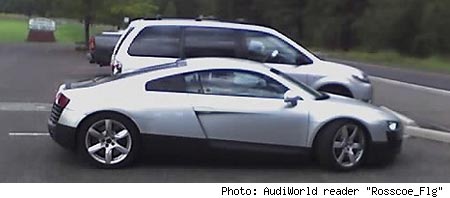 Head over to AudiWorld for lots more pics and additional details. In the meantime, if any readers out there are Audi aficionados, have a look at the wheels in the pic above and let us know if they're used on anything else in the range. We're curious as to whether or not these are the R8's "real" wheels.
Thanks again to Jason for the tip! [AudiWorld]