At the 1977 Geneva Auto Show, Porsche introduced the world to the 928, a – gasp – front-engine GT car that would compete with some of the great touring cars of its day. The portly Porsche achieved limited popularity over its 17-year run, but served as a sign of things to come when the Cayenne was introduced seven years later. Porschophiles the world over decried this latest offering as another bastard product that would water down the heritage of the automaker. No matter how much profit may have been generated by the Cayenne, or the Boxster for that matter, respect from Porsche's die-hard fanatics waned.
Fast-forward to 2006 and the controversy of Porsche's ever-expanding line-up comes to the fore again, this time in the form of the four-door Panamera. The new FR platform will allow Porsche to compete with other German manufacturers in the burgeoning $100k+ sedan market and also allows the automaker to resurrect the 928 moniker by shortening the wheelbase and lopping off its rear doors. Porsche wants a dog in the most prestigious of fights and in the realm of the high-price GT, stiff competition from BMW's M6, Merc's CL (now with AMG muscle), Aston Martin's DB9 and Jag's XKR proves that the market exists.
Car and Driver has put together what limited information is available about Porsche's new GT to come up with the above rendering and some technical speculation. As mentioned previously, both the Panamera and the 928 will share a platform, with the GT expected to share approximately 60 percent of the sedan's parts. A shorter wheelbase, coupled with a stiffer, multi-link suspension setup and the loss of a few pounds should lend a great deal to the 928's sporting pretenses. Motivation will come from a NA V8, producing upwards of 350 HP, with the option of cannibalizing the Cayenne's twin-turbo V8, making well over 500 HP and placing M.B.'s and BMW's high-po offerings directly in its sights. Gear selection will be similar to what's offered in the Panamera, with either a six-speed manual or a seven-speed dual-clutch gearbox channeling power.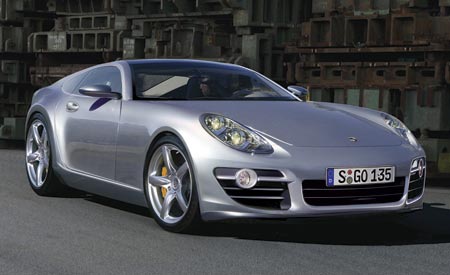 Pricing is expected to begin just above the 911's $90k, then head due north towards the mid-$100,000 market. If all goes according to plan, Porsche will debut the 928 sometime in 2011, with sales beginning the following year. [Car and Driver]