At this year's Detroit auto show, Aston Martin stunned the gathered crowd with a breathtakingly beautiful four-door styling exercise called the Rapide. Named for the legendary late-1930s Lagonda flagship engineered by W. O. Bentley, the Rapide is the second four-door Aston project initiated under Ford ownership. The first, the 1993 Lagonda Vignale show car, was designed by Ghia and later mothballed. The Rapide, however, is all set for production in 2008, just ahead of its direct rival, the Porsche Panamera. We drove the concept car in Gaydon, England.
"Our goal was to make the most beautiful four-door car in the world," says design director Marek Reichman. The team succeeded from an aesthetic point of view, but the rear-seat packaging is unacceptable. Although the wheelbase was stretched from the DB9's 107.9 inches to 117.7 inches, which matches that of the standard Lincoln Town Car, tall passengers will find it very difficult to squeeze through the narrow aperture defined by the low roofline and the restricted door opening. "The rear doors will swing open much farther in the production car," promises Reichman. "Slimmer seats will provide more legroom, and we may even alter the platform to lower the hip point, but that would require a $3 million investment." We say it would be worth it. The rear seats are beautifully sculpted, and we'd like to be able to sit in them.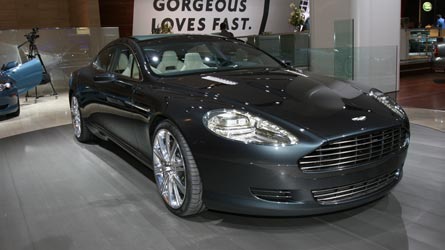 Because it's a show car, the Rapide is replete with glitzy features such as power-folding rear seatbacks, a collapsible chessboard, and a bar with crystal champagne flutes. The four leather-clad bucket seats are separated by a substantial full-length center console, which eats up precious rear legroom. We hope Aston keeps the spacious, beautifully finished cargo deck, the practical liftgate, and the variable-tint polycarbonate roof. At the push of a button, the electrochromatic roof changes the in-cab atmosphere from airy to moody. The interior trim is equally impressive, with skillfully chosen matte poplar accents, blue sharkskin, and green-beige saddle leather.

The shiny chrome controls grouped around the custom Jaeger-LeCoultre clock are a bit over the top, but we're drawn to the starter button, which fires the 5.9-liter V-12. It's the same engine as in the DB9 but with its output bumped from 450 to 480 hp. Here, unfortunately, the mighty V-12 is castrated—it's limited to 4000 rpm. Mercifully, the car's character remains intact, and the engine's beautiful noise is further accentuated by large-diameter tailpipes and a pair of intake louvers reminiscent of the DBR9 race car's.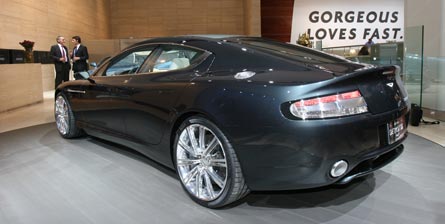 Derived from the DB9 platform, the Rapide will take relatively little investment and time to complete its journey from show car to production model. If anything, the four-door treatment enhances the presence and beauty of the coupe's form language. How much will the newcomer cost? We hope that the narrow price gap between the $161,100 DB9 coupe and the $174,100 DB9 Volante (convertible) will accommodate a third model. If money were no object, would we join a queue to be guaranteed early delivery? Absolutely—if Aston can fix the packaging problem without altering the Rapide's elegant shape. If not, then forget it. Or rethink the marketing gambit and call the Rapide what it is: a four-door sport coupe. [PRIMEDIA Magazines]