It is difficult for a company to establish itself as a manufacturer of luxury cars of the highest class and quality. That was the aim of Lexus when, 17 years ago, as a division of Toyota Motor Corporation, the LS 400 was launched in America and Europe. Americans are generally more pragmatic and less traditional than Europeans, and they soon recognized the LS 400 as a car offering superior quality at a lower price than its most prestigious competitors from either continent.
The LS 460 is the fourth LS generation and is a completely new car from its platform and body structure to its all-aluminum engine with variable intake valve timing and unique 8-speed automatic transmission. The new car is marginally longer and wider than the 2005 LS 430, and has reduced overhangs. For the first time a long-wheelbase version (plus 4.7 in.) is offered, increasing rear leg room. Styling is conventional but elegant, and Lexus quotes a very low CD of 0.26.
The front suspension is new, the double wishbones replaced with two upper and two lower transverse arms, linked to the wheel carrier to form a virtual swivel axis and minimize kickback, while at the rear a 5-link system is used. Coil springs or the optional air suspension (the latter, on all test cars at the international press presentation in Austria) are used front and rear.
Electronically monitored dampers react to the usual inputs from car speed, road surface, steering angle and longitudinal and lateral acceleration. And complementing the Normal setting are  Sport and Comfort modes that can be selected.
Despite lightweight materials and other weight-saving techniques, the new car weighs 4365 lb. without options, 375 lb. more than its predecessor, due to its comprehensive equipment, improved structural rigidity and noise/vibration/harshness damping. But this weight penalty is more than compensated by the 102-bhp increase achieved by the new 4.6-liter V-8. This, says Lexus, without any increase in fuel consumption.
What's more, the car meets ULEV and Euro 4 emissions requirements. Output of 82.6 bhp/liter is very respectable for an engine in which smooth running, quietness and flexibility are high priorities. They are achieved by a high 11.8:1 compression ratio, innovative electrically operated variable valve timing, reduced-friction zero-lash roller valve rockers, a very narrow included valve angle and a variable-geometry air intake system.
The latest adaptive functions are incorporated in the new 8-speed automatic with torque converter lock-up and manual sequential-shift facility. This transmission is actually lighter than the previous 5-speed unit, thanks to the use of aluminum ring gears and clutches.
The Euro-spec cars differ from the U.S. models mainly by their slightly stiffer damper settings and stiffer anti-roll bars, 19 x 8-in. wheels with 45-aspect-ratio tires instead of 18 x 7½-in. wheels with 50-aspect-ratio tires, and larger-diameter, thicker brake discs. Keyless (or rather "key-in-pocket") access means that there is no ignition key, so starting and stopping the engine uses a large button.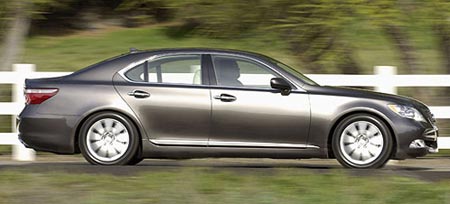 Despite the car's large size, leg room in the rear compartment is only adequate, and ingress is not particularly easy. Here the long-wheelbase version scores, especially with more leg room and optional adjustable rear seats. The seat upholstery and door linings are of the best-quality leather and there is a choice of wood trim.
Before going to Austria, I had had a chance to drive a European-specification LS 460 with air suspension on a proving ground, where the car could be extended to the limits of its performance and handling potential. With comfort and quietness a high priority, this is certainly not the driving style normally adopted by a typical owner of this car. But even in such circumstances, the Lexus (with the dampers in the Sport position) behaved surprisingly well with good turn-in, very moderate understeer and little roll, while still providing a comfortable ride.
But even though the Lexus LS 460 is a really fast car — it can storm from 0 to 60 mph in 5.4 seconds, according to its makers — its charm lies in its outstanding comfort, in the effortlessness with which it performs under all circumstances and in the pride of ownership it commands.   [Hachette Filipacchi Media]