BMW's new 335i coupe is not class leading, It's in a class of it's own. WISER heads than mine sagely say that a car ought not -indeed cannot -be judged by the cossetted drive that is typical of media launches. No, they continue – usually unbidden and often at considerable length – you must take the newcomer in question and spend days comparing it with other cars of questionable relevance, prevailing upon them in a manner that the generality would not so much as contemplate in a month of Bathurst 1000s.
Well, it's impossible not to be overcome by the immediate impression made by BMW's new 335i Coupe.
Yes, our behind the wheel exposure was of but 100km with another 70 as passenger. Yet only a knave or a fool could deny that here, at last, is a new BMW that ceases to be merely monotonously class-leading and ascends to a class of its own.
With the lesser but nevertheless impressive variant of the E92 series (as the coupe derivative of the E90 sedan is known to trainspotters), it is easier to suggest that these are simply two-door sedans. This taunt has long been levelled at 3 Series Coupes and if it's a lazy liable, then it hasn't always been without substance.
But the bi-turbocharged bombast of the top of the range 335i sets it far apart from the metallic-coloured pack.
After decades of plausibly denying that they would ever again blow one of their iconic inline six cylinder petrol engines, those barmy Bavarians have done just that. Power is 225kW, torque 400Nm, appreciable increases on the seemingly too soft atmo 3.0-litre six that fills the 330i sedan's engine bay.
 This translates to a claimed 0-100kmh sprint figure of 5.7 seconds (5.5 in the manual) and a feeling of performance that transcends both these numbers and the car's 1525kg kerb weight.
That's apt really, because the 335i transcends its 3 Series cousins much as the first jet fighter did those driven by propeller.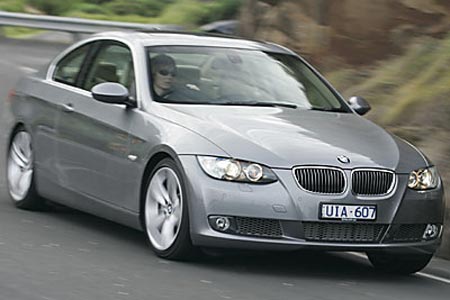 With high precision direct fuel injection and twin blowers each assigned to force feed three cylinders of the all aluminium six potter, maximum torque is tapped at only 1300rpm and it stays on tap all the way to 5000.
The claimed fuel consumption figure is an impressive and wholly credible 9.5 litres per 100km.
Coupes, it is acknowledged, are emotional purchase decisions, so it helps not a little that the new 3 Series range has escaped the dreaded set square of BMW design chief, Chris Bangle. They are, by some degrees of magnitude, the most becoming of the current Bimmers. Nary a panel is shared with the sedan – two at the front are made from tough synthetics to save weight. Even the trademark twin kidney grille has been purpose refined.
Aside these are twin headlight clusters that, when seen in a rearview mirror, have the aspect of a stalking predator. The coupe's smooth, flowing lines are seen to best advantage from the rear three quarters.
Within it's typically BMW, though with embellishments that include robotised arms which extend the front seat belts to hand when the doors are shut. Standard equipment far exceeds the company's notoriously spartan norm.
Options are few and largely superfluous. Steering wheel mounted gear changing paddles are a $200 option, but given that each performs the same function (either can be manipulated for down or up gearchanges as opposed to the more usual left flap for down/ right for up), why not just one for $100?
Or none for nothing? The lightening quick 100 millisecond shifts can also be accessed via the good old gear stick.
So while we had no opportunity to sample the manual, we scarcely felt hard done by. The auto 335i holds a gear past redline, allowing for power spurts and engine braking with almost alarming adroitness.
The Active Steering system is ultra-responsive and dramatically direct at 1.9 turn lock-to-lock in tight conditions. At pace, your hands never need leave the correct nine-to-three position.
Although afflicted by runflat tyres (the rear pair are of a slightly lower profile) ride is compliant.
The stiff sports suspension makes the coupe an avid devourer of bends, the DTC control allowing quite some leeway and kicking in deftly when cornering envelopes threaten to tear.
It's one thing to boast of rear-wheel-drive dynamics and perfect 50/50 weight distribution, it's quite another to match them to car that is so exhilarating yet so easily controlled.
Yes, our exposure was all too brief, but the 335i convinces as quickly as it accelerates. [CARSguide]